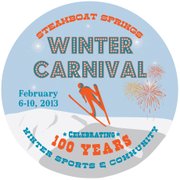 Steamboat Springs — Rule No. 1 when planning a 100th anniversary celebration: Make sure everything is bigger and better.
That's been the mantra for the Steamboat Springs Winter Sports Club and the scores of volunteers who have been working in earnest throughout the past several months to make February's 100th Winter Carnival a celebration worthy of the milestone. With less than three weeks until the five-day carnival kicks off with opening ceremonies Feb. 6, the centennial event is beginning to take shape.
In addition to Winter Carnival standbys like the Soda Pop Slalom, two days of street events, ski jumping competitions, the diamond hitch parade and the Night Extravaganza, this year's carnival also will feature some new additions.
A Sorel Soiree party in a heated tent adjacent to Howelsen Hill Lodge starts at 7 p.m. Feb. 8 and will continue late into the evening. Tickets are $75 and include drinks and food. Loose Change will perform live, and partygoers can warm their hands next to a bonfire. Organizers are encouraging attendees to wear formal attire for the event and, of course, their Sorels.
Also new this year is an afterparty to be held immediately after the Night Extravaganza's fireworks display. A Winter Carnival button is required for entry to the afterparty, where food and drinks will be available for purchase.
Wrapping up the Winter Carnival weekend will be a Steamboat Celebration Concert at Strings Music Pavilion. Tickets will be sold separately.
Like many longtime Winter Carnival events that are getting tweaked for the 100th anniversary celebration, the Winter Carnival button also has undergone a facelift. This year's button was designed by Steamboat's Devon Dalzell, owner of Noteworthy Design. Ski jumping, fireworks, Steamboat's Western heritage and a nod to classic ski posters make up the button's design.
The button serves as an admission ticket for participants and spectators to most Winter Carnival events, including the street events held on Lincoln Avenue. Buttons cost $10 and are available at the Winter Sports Club office at Howelsen Hill as well as at the Steamboat Springs Chamber Resort Association visitors center on Anglers Drive. Buttons will be available at local shops in the coming weeks, as well.
Special this year is a Winter Carnival medallion, which is a cast version of the button finished in an antique gold color and strung on a satin ribbon. The medallion costs $100 and includes a stand for displaying it once the Winter Carnival ends. Carnival organizers hope the medallion will be a valuable keepsake for many residents and visitors. The medallion will be available in early February at the Winter Sports Club office.
Proceeds from button and medallion sales benefit the Winter Sports Club and help offset the cost of putting on the Winter Carnival.
For more information about this year's Winter Carnival, visit www.sswsc.org or call 970-879-0695.
100th Winter Carnival schedule
Feb. 6
5:30 p.m. Opening ceremonies
6 to 8 p.m. Speed and flight night ski jumping (for amateur adults)
Feb. 7
4:30 p.m. Cross-country obstacle race
6 to 7 p.m. 20-, 30- and 50-meter ski jumping
6 to 9 p.m. Winter Carnival dual giant slalom and party (skiers 15 and older)
Feb. 8
10 a.m. Soda Pop Slalom (Steamboat Ski Area)
1 p.m. Vintage ski race and ski fashion show (Steamboat Ski Area)
1:30 to 3 p.m. Ski Jumping Jamboree (kids)
4 to 6:30 p.m. Community tubing party
4:30 to 6 p.m. Nordic jumping exhibition
6 to 7 p.m. Amateur ski jumping (adults)
6 to 8 p.m. Dual slalom bicycle race
7 to 8 p.m. Snowboarding jam session
7 p.m. to midnight Sorel Soiree*
Feb. 9
8 to 11 a.m. Knights of Columbus pancake breakfast (Holy Name Catholic Church)
8 a.m. 100-meter Nordic ski sprint (Lincoln Avenue downtown)
9 a.m. to noon Street events (Lincoln Avenue downtown)
9 a.m. to noon Pro Alpine ski jumping training
Noon to 2 p.m. International Muzzle-loading Biathlon
1 p.m. Pro Alpine ski jumping qualifying
6:15 to 6:45 p.m. Winter Sports Club athlete exhibition
7 to 8 p.m. Night Extravaganza
8 p.m. Night Extravaganza afterparty
Feb. 10
9 to 11 a.m. Street events (Lincoln Avenue downtown)
11:30 a.m. Diamond hitch parade (Lincoln Avenue downtown)
1 p.m. Pro Alpine ski jumping finals
1 to 2 p.m. Parent-child downhill
5:30 p.m. Steamboat Celebration Concert (Strings Music Pavilion)*
Events are at Howelsen Hill unless otherwise specified. $10 Winter Carnival button is required to attend all events.
*Separate tickets are required
To reach Brent Boyer, call 970-871-4221 or email bboyer@SteamboatToday.com