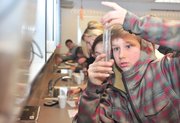 Steamboat Springs High School: B (53 of 327)
Steamboat Springs Middle School: A+ (7 of 491)
Strawberry Park Elementary School: B+ (146 of 998)
Soda Creek Elementary School: B (296 of 998)
North Routt Community Charter School: B (196 of 998)
Soroco High School: B (86 of 327)
Soroco Middle School: C (232 of 491)
South Routt Elementary: C (712 of 998)
Hayden High School: C (182 of 327)
Hayden Middle School: C- (406 of 491)
Hayden Elementary School: C (608 of 998)
Source: www.coloradoschoolgrades.com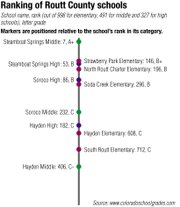 Steamboat Springs — Steamboat Springs Middle School stands way out in a fresh report card of Colorado's public schools.
The website www.coloradoschoolgrades.com last month gave the campus an A+ rating and ranked it seventh out of 491 middle schools in the state based on its students' performance on the Transitional Colorado Assessment Program.
Only 10 percent of schools across the state earned the A+ rating, according to the website.
Teachers at the campus said the report card came as a pleasant surprise.
"It's a huge accomplishment," science and math teacher Jennifer Sherman said Tuesday during class. "But it's not an individual accomplishment. It's made possible because of a cohesive group of people at this school."
No other school in Routt County earned a rating above an A or came close to being ranked among the top 10 percent of schools in the state, but Steamboat's other campuses weren't too far behind with B and B+ ratings.
With the help of a complicated grading formula developed by the Center for Education Policy at the University of Colorado Denver, www.coloradoschoolgrades.com ranked schools across the state based on TCAP data released by the Colorado Department of Education.
Max Kelemen, a project manager for the grading website, said Tuesday that the site was launched two years ago to make it easier for parents to understand how schools in the state were performing.
The project is funded by 18 private organizations.
"We felt it needed to be more transparent and easier for parents to understand when choosing schools for kids," Kelemen said about grading the academic performance of schools.
The Department of Education for the past three years has graded schools using a different system.
Each district is accredited, and the highest performing districts are "accredited with distinction." Each campus in the district then earns a rating, with the highest being "performance" and the lowest being "turnaround."
Last school year, the Steamboat Springs School District again joined a small number of districts in the state when it was "accredited with distinction," and all of its campuses also were ranked as "performance" schools.
Kelemen said the A to F grading scale used by www.coloradoschoolgrades.com is easier for parents and noneducators to understand when evaluating schools.
"A, B, C, D was something (parents) could recognize and understand better than 'turnaround,' 'performance' and 'priority,'" Kelemen said referring to the words the Department of Education uses to grade campuses.
Steamboat Curriculum Director Marty Lamansky said the website's ranking of Steamboat's schools was welcome news.
"This is another great reinforcement of the high quality of work our schools are doing," Lamansky said.
But he added the performance reports and the grades the district receives from the Department of Education are more valuable to educators because the data it contains is used to shape curriculum.
"The CDE data definitely gives us more useful information in terms of how we're going to improve our instructional programs," he said. "It digs deeper into the analysis of what's working and what needs to be improved."
To reach Scott Franz, call 970-871-4210 or email scottfranz@SteamboatToday.com