2012-13 Rams boys basketball schedule
Oak Creek — The Soroco boys have found something.
Whether it came in their stockings during the holidays or maybe as part of a New Year's resolution, the Rams look night and day different.
Whatever it was, it continued Tuesday in chilly Oak Creek. Soroco won its fourth straight game in beating the Denver Eagles Christian Home School, 72-26.
"We're healthy and got everybody back," said coach Jake Eskridge, whose team now is 4-4 after an 0-4 start. "They've finally hunkered down. They're starting to discover themselves. They're finding out defense wins games."
With Soroco coming off its most impressive victory, a 68-65 win at rival West Grand, Eskridge admitted he was worried Tuesday's contest could turn into a game.
But the Rams started a layup line 10 minutes before tipoff and didn't stop until after the second quarter.
Soroco ran out to an 18-10 first-quarter lead and had little trouble extending it. The Rams held the Eagles to four points in the second and third quarters in building a 59-14 lead heading into the final quarter.
"I thought it could be a trap game coming off a big win," Eskridge said. "You relax and think it might be easy, and then all of a sudden, you're in a game. But they did what they had to do."
Nic Paxton led all scorers with 18 points. Ryan Jeep had 11, and AJ Anderson and Matt Regan each had 10.
Soroco next plays at 7:30 p.m. Friday at home against Paonia (2-5).
Soroco girls run away in the 2nd half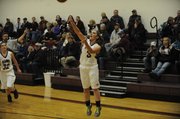 2012-13 Rams girls basketball schedule
Nov. 29: Little Snake River 38, Soroco 27 at Meeker Cowboy Shootout
Nov. 30: Soroco 39, Nucla 38 at Meeker Cowboy Shootout
Dec. 1: Soroco 48, Hayden 28 at Meeker Cowboy Shootout
Dec. 7: Soroco 51, Longmont Christian 15
Dec. 11: Soroco 39, North Park 29
Dec. 15: Soroco 64, Beth Eden 48
Jan. 12: Soroco 47, West Grand 27
Jan. 15: Soroco 43, Denver Eagles 31
Jan. 18: Paonia 74, Soroco 36
Jan. 19: Hotchkiss 62, Soroco 36
Jan. 24: Soroco 50, Hayden 29
Jan. 26: Soroco 46, Vail Christian 37
Feb. 1: Meeker 54, Soroco 37
Feb. 2: Rangely 36, Soroco 29
Feb. 8: Soroco 49, North Park 48
Feb. 9: Soroco 55, West Grand 47
Feb. 12: Soroco 59, Vail Christian 28
Feb. 16: Soroco 46, Plateau Valley 26
Feb. 22: Soroco 55, Hayden 32
Feb. 26: District tournament at home sites
March 1 and 2: District tournament at Paonia: Rangely 48, Soroco 42
Even Soroco girls coach David Bruner just shakes his head and laughs. The Rams weren't supposed to be this good.
They lost a lot from last year. They looked like they might be rebuilding. But after a 43-31 win against Denver Eagles Christian Home School on Tuesday in Oak Creek, Soroco hasn't lost since late November.
"Hey, we're 7-1," Bruner said. "Who would have thought?"
Somehow, though, Bruner has found a collection of talent that just seems to make things work.
The Rams by no means were pretty Tuesday. Soroco trailed 7-2 after one quarter thanks to shooting just 1 of 14 from the field.
But the Rams started to get it going in the second quarter, taking a 21-15 lead into halftime.
In the third quarter, the team kept extending the lead, taking a 34-20 lead into the fourth.
Considering how poor the Rams shot, Bruner was happy with the win.
Shelby Meyer, Briana Peterson, Jacey Schlegel and Jessica Rossi each had eight points. Rossi added 15 rebounds, and Meyer had seven steals.
"What could happen if we shoot 40 percent from the floor?" Bruner said. "They could beat a lot of teams — a lot of good teams."
The Rams will get their chance. Soroco next plays at 6 p.m. Friday at home against league power and Class 2A's No. 7 team, Paonia.
"If we shoot the ball well, it could be close," Bruner said. "If we shoot well, it might be exciting."
To reach Luke Graham, call 970-871-4229 or email lgraham@SteamboatToday.com