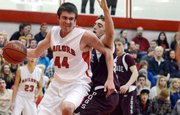 2012-13 Sailors boys basketball schedule
By the numbers
Palisade (6-3) 8-9-11-13—41
Steamboat (6-3) 12-13-3-8—36
Palisade: Daniel Ness 1 6-8 8, Skyler Miller 4 0-0 10, Zach Shurden 2 0-0 5, Jacob Bollinger 0 3-6 3, Luke McLean 3 0-0 7, Jesus Aguirre 1 1-2 3, Levi Hoagland 2 1-1 5. Totals 13 11-17 41.
Steamboat: Brandon Miller 1 0-0 2, Mitch McCannon 2 2-2 6, Carter Kounovsky 3 0-1 8, Nathan DePuy 1 0-0 2, Ben Custer 3 0-0 6, Brody King 1 0-0 2, Zach Dunklin 1 0-0 2, Garrett Bye 4 0-0 8. Totals 16 2-3 36.
3-point shots: Palisade (2)— Miller 2, Shurden, McLean, Ness. Steamboat (2)— Kounovsky 2.
Steamboat Springs — Carter Kounovsky may not have been able to put a happy spin on it if he'd tried. In any case, the Steamboat Springs High School senior didn't try.
The Sailors led big early and even led late Friday playing at home against Palisade. They couldn't summon up the offense to outlast the Bulldogs, however, falling 41-36 at home Friday.
"It did hurt," he said. "They came into our place. We had all of our fans screaming and cheering and we didn't perform. We didn't execute."
Steamboat wasn't on its game from the tip, falling behind 8-0 in the first quarter. But once the Sailors started rolling, they didn't stop — at least not for the rest of the first half.
The Sailors (6-3) scored 18 of the game's next 20 points, and after Kounovsky drained a wide-open 3-point shot late in the second quarter, they led 25-17 going into halftime.
They were effective on offense, stingy on defense and more than a match for Palisade.
After halftime, however, everything was different. Steamboat scored just three points in the third quarter.
"We talked about all the right things at halftime," Kounovsky said, referencing another of his team's listless performances from earlier in the season. "We actually said, 'Don't do exactly what we did against Glenwood, where we came out flat.' Then, that's exactly what we did."
After the game was tied late in the third quarter, Steamboat stepped up again in the fourth, pounding the ball into sophomore center Garrett Bye. He had back-to-back baskets to put Steamboat up by four, then Brody King broke the suddenly stiff Palisade pressure with a full-court pass to Ben Custer, making the lead five points at 36-31.
Steamboat didn't score again, however. The team was 2-14 from 3-point range and couldn't find the aggressiveness late to match Palisade.
"We couldn't deal with their pressure. They got up into us and we didn't turn that into points. Instead, we turned it into turnovers and bad shots," Steamboat coach Luke DeWolfe said. "We sat back on our heels and let their defense dictate what we did."
Skyler Miller led Palisade with 10 points. Bye finished with 8 points to share team-leading honors with Kounovsky for Steamboat.
After Bye's four-point surge early in the fourth, Palisade clamped down hard on him, and Steamboat couldn't take advantage of that focus.
"You either have to hit 3-pointers and stretch them back out, or open shots in the open court, both of which we were unable to do," DeWolfe said.
Steamboat is back at it Saturday at 4 p.m. against Delta, and there's no time to lick wounds.
"If these guys aren't ready to play, they'll get steamrolled," DeWolfe said. "They know that. It's hard to lose a game like this, but our guys understand they have to put it behind them."
To reach Joel Reichenberger, call 970-871-4253 or email jreichenberger@SteamboatToday.com