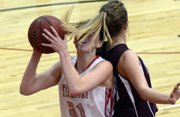 2012-13 Sailors girls basketball schedule
By the numbers
Palisade (4-5) 8-7-12-20—47
Steamboat (5-4) 13-12-2-8—35
Palisade: Moriah Rayment-Rutterbush 2-14-5, Casey Brown 0 4-4 4, Cruz Maestas 2 8-15 12, Ashlyn Brown 3 2-2 10, Jenna Brown 2 2-8 6, Aspen Guray 3 4-4 10. Totals 12 21-37 47.
Steamboat McKenzie Repollo 3 2-2 11, Alex Feeley 1 0-2 2, Megan Stabile 1 1-2 3, Hunter Anderson 1 0-0 2, Maggie Crouch 3 1-2 7, Ashley Spitellie 1 2-4 4, Alice Holmquist 1 0-0 2, Amaris Duryea 2 0-0 4. Totals 11 6-12
3-point shots: Palisade (2)—A.Brown 2. Steamboat (3)— Repollo 3.
Steamboat Springs — There were too many fouls, too many turnovers, not enough rebounds and, too many missed shots Friday as the Steamboat Springs High School girls basketball team stumbled late, giving away a second-half lead en route to a 47-35 loss to Palisade.
It was a textbook way to lose a game late, and the frustrating part for the Sailors is that for more than half the game, they were the ones putting on the basketball clinic.
"We didn't play as poorly as what the score said in the second half, but we just didn't hit shots," Steamboat coach John Ameen said. "Defensively we lost some spark. Then we got into some foul trouble. I'm not 100 percent sure what happened in that second half."
The Sailors (5-4) clung to a lead all the way through the third quarter, but they struggled to find any offensive mojo for the entire second half.
One string of events in the fourth quarter summed up the game for Steamboat. Palisade got a steal and a layup to extend its lead to three points. Steamboat was called for a double dribble on the ensuing possession and missed a 10-foot shoot on the possession after that. The rebound from that attempt was whisked down court by the Bulldogs and the Sailors were called for a blocking foul in the lane. Palisade made both free throws, and as soon as it got the ball back, Steamboat was whistled for a travel.
Palisade took a one-point lead early in the quarter, then slowly expanded upon that, eventually opening it as wide as 12.
"It was defensive execution, but offensively it wasn't that we weren't doing things right. It's that we weren't hitting shots and we weren't getting second-chance opportunities," Ameen said. "We have the capability to shoot, but we also have to crash when we miss and get those second-chance opportunities."
As bad as things seemed to go late in the game is as good as they went early, when Steamboat was putting on a clinic.
Steamboat was on fire out of the gate. McKenzie Repollo nailed three 3-point shots in the first quarter, accounting for nearly half of the team's 13 points in that period. Steamboat scored 12 in the second quarter, with seemingly everyone chipping in to build a lead that stood at 25-15 at half.
It all went wrong after that though. The team only scored two points in the third quarter.
The Sailors return to the court at 2:30 p.m. Saturday against Delta.
To reach Joel Reichenberger, call 970-871-4253 or email jreichenberger@SteamboatToday.com