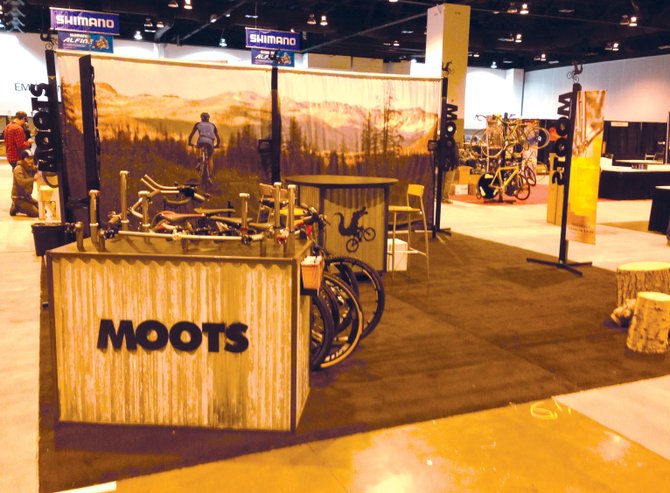 Steamboat bicycles represented at North American Handmade Bicycle Show
Thursday, February 21, 2013
The Moots Trail Maintenance Bike
In collaboration with the International Mountain Biking Association and Routt County Riders, Moots Cycles designed a specialty trail maintenance bike aimed to offer easy access to backcountry trails with critical trail maintenance tools attached.
Tools integrated into the bike's frame include:
■ Rogue hoe
■ Folding saw
■ Pruners
■ 18-inch chain saw
■ Telescoping handle system
■ 0.6 liters of fuel
■ Chain oil
■ Flask
■ Gloves
■ Rain gear
■ Six pack
Steamboat Springs — There are no ordinary bicycles at an anything-but-ordinary trade show that begins Friday in Denver.
The North American Handmade Bicycle Show is the kind of event that has valet bike parking for participants, a Colorado microbrewery providing fine canned beer and a mobile app specifically designed to help participants navigate the intimate global community of handcrafted bicycle builders.
Of the more than 170 expected exhibitors from countries as far away as Japan and Ghana, the ninth annual event will host repeat appearances from Steamboat bike manufacturers Kent Eriksen Cycles and Moots Cycles.
On Thursday afternoon, Moots' Marketing Manager Jon Cariveau was finishing setting up Moots' booth during the company's seventh year attending the traveling trade show.
"It's a really good opportunity for us to talk face to face with our loyal customers and even potential customers," Cariveau said about the show. "Another really good part of it is being amongst our peers. This is the crème de la crème of bicycles, hand-built-wise. A part of it is the camaraderie with the other builders. There's a lot of respect within this group."
Last year's event saw 171 exhibitors and more than 8,000 attendees, and a futuristic, streamlined design by Japanese manufacturer Cherubim won Best in Show.
But Steamboat well represented its stake in the handmade bicycle industry.
Kent Eriksen Cycles won the Best Tandem Bike award for the fourth year in a row as well as Best Titanium Construction. Moots Cycles earned Best Cyclocross Bike during last year's convention.
According to the event's website, the bikes on display at the trade show range in retail price from $3,000 to $10,000, and some go for more than $50,000.
The creative, exotic designs are crafted by hand, with most awards going to specific people — whomever's hands made the bike.
The two Steamboat companies will be competing against each other this year, each bringing entries in the Best Mountain Bike category. Eriksen also is entering another bike in the Best Titanium Construction category, and Moots will present its trail maintenance specialty bike in the Best Theme Bike category.
Cariveau said the Theme Bike entry is a hand-built homage to the hard work that goes into maintaining mountain bike trails complete with special attachments to carry important trail tools.
"In Steamboat, we have this amazing amount of trails," he said. "Routt County Riders is the (International Mountain Bike Association)-affiliated club there in town that takes care of the trails. That kind of inspired us to build this bike that would allow us to ride a bike into an area, work on the trails, maintain those trails and ride a bike the entire time. It really let us showcase our craftsmanship, our hand-built art of building a bike. There are a lot of special features on the bike."
Cariveau said that the atmosphere is busy but intimate and that Denver is an excellent venue in which to have the event because so many bicycle manufacturers and related companies based in Colorado.
Of the 30 Colorado companies represented at the show, nearly 7 percent of them are from Steamboat Springs.
"Steamboat's very unique that way, but Colorado in general has quite the thriving bicycle industry participation," he said.
To reach Nicole Inglis, call 970-871-4204 or email ninglis@ExploreSteamboat.com