Photo Gallery
Ice fishing in Routt County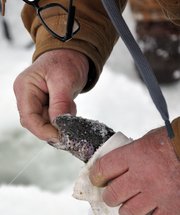 Past Event
Sunday, February 17, 2013, 9 a.m. to 3 p.m.
Stagecoach State Park, Stagecoach, CO
All ages / Free - $35
Ice fishing on a budget
Craig Preston and Kent Baucke said it's a misconception that ice fishing has to be an expensive sport.
Sure, there are those who use gas-powered augers to cut holes in the ice and pass the time in a tent.
But a daily fishing license can be purchased from the Colorado Division of Parks and Wildlife for less than $10, and anglers usually can find a previously cut hole to fish from with a simple rod and a baited line.
"You don't have to spend hundreds of dollars on fancy ice fishing gear to have fun," Preston said.
Not interested in ice fishing? Stagecoach State Park also offers free snowshoe rentals this time of year, and recreational opportunities are available at nearby Steamboat Lake, Pearl Lake and Eklhead Reservoir.
Fishing conditions
Stagecoach State Park: 970-736-2436
Steamboat Lake and Pearl Lake state parks: 970-879-3922
Elkhead Reservoir: 970-276-2061
Tournament registration
To register for the ice fishing tournament and review the rules, visit www.steamboatgreatoutdoors.com or call 970-819-4525. Registration is $25 in advance and $30 on the day of the event. Young anglers fish for free. A portion of the tournament proceeds will be donated to the Oak Creek Fire Corps.
Stagecoach — Kent Baucke understands the challenges of marketing the sport he loves.
It's not action packed. There are long moments of silence between highlights. And some people are leery of walking far from a shoreline on top of a deep lake, even if they are supported by a sheet of ice that's more than a foot thick.
"But it's a relaxing day," Baucke said about ice fishing. "And people want to do something different. They've skied. They've hot tubbed. They've tubed. They want to do something different, and I let them try it, and I show them a good day."
Baucke, who started Steamboat Great Outdoors about two years ago and leads ice fishing trips on Stagecoach Reservoir, knocks on wood when he says that every group he has brought out to fish through the ice in South Routt County has come away with at least one fish.
At Stagecoach, the catches are rainbow trout and pike.
The lucky groups also spot elk, eagles and other wildlife during their afternoon adventures.
And the fishing can be combined with snowshoeing and cross-country skiing.
"I've also got a few jokes I like to tell people," Baucke said. "It's a nice day to visit and get to know the people sitting next to you."
On Sunday, Steamboat Great Outdoors and Stagecoach State Park will host the second ice fishing competition at the reservoir and hope to attract about 100 people.
It comes at a time when local state parks are reporting that the ice is thick at their reservoirs and lakes and that the fish are biting.
"We're known for our rainbow trout, and right now, they seem to be hitting on ice jigs tipped with meal worms," Stagecoach State Park Manager Craig Preston said.
He said the fish recently have been cruising the shallows in the morning and going deeper in the afternoon.
But the pattern could change any day, and as the tournament approaches, avid fisherman continue to traverse the ice looking for a big catch.
Something different
The howling wind and heavy snow that blew over Stagecoach Reservoir on Thursday made Mike Colvin's wait above the ice a little more interesting.
For the first two hours, pike and trout weren't coming too close to the six fishing holes Colvin and his friends cut through the foot of ice and slush that blanketed the reservoir.
They sipped beer and cracked jokes to pass the time about 100 yards from the shore.
Then a line wiggled silently.
"You never know if you're going to get that big one," Colvin said shortly after he reeled in a trout. "We don't have snow machines, and we don't do much else in the wintertime, so this is a lot better than sitting at home."
Standing around a sled filled with Bud Light, frozen shrimp and ample fishing gear, the men said the sport of ice fishing has many allures.
It's a bonding experience, Steve Bergquist said.
It's an opportunity to fish in deep water without a boat.
"You might even pull a 20-pound pike through that hole," Craig resident Johnny Parker said at the fishing site.
Some come to the reservoir with depth readers and underwater cameras to better their chances of finding the pike and cod below the ice.
A grill to prepare Italian sausages and a tent in which to stay warm also add to the revelry.
And others are content with just a simple fishing rod, a floppy chair, a container of worms and a cold beer.
"It's just something fun to do," Parker said.
To reach Scott Franz, call 970-871-4210 or email scottfranz@SteamboatToday.com