Photo Gallery
Saturday Winter Carnival events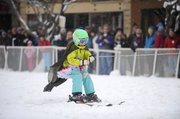 Winter Carnival celebrates its 100th year
Steamboat Springs — Bill Gilbert was sitting around a table with friends at The Brandywine Restaurant and Bar in Steamboat Springs when the idea for the annual International Muzzleloading Biathlon was formulated.
On Saturday, in the event's 39th year, it was evident plenty had changed. Gilbert is older and grayer. Some rules have come and gone. There have been big changes and small. Many of the faces from that first year are gone.
Still, as laughter and barrages of jokes echoed around the event's award ceremony — two dozen friends gathered around a table — it also was clear that in 39 years, many things have stayed exactly the same.
"It's been an evolution," he said. "Things that don't work are dropped. The cooperation with the city is just remarkable, and the locals and tourists seem to really enjoy the event."
The muzzleloading biathlon long has been one of the quirkiest elements of Winter Carnival, which has no shortage of events capable of vying for that title. On Saturday, 17 men and women took the field, deploying with a wide array of skills and motivations.
Some, like one of the event's organizers Paul Yonekawa, held nothing back, competing in the "traditional" category with gusto. Those skiers, most of whom are longtime veterans of the event, donned authentic-looking clothing from the fur-trapper era of Rocky Mountain history — some so convincing they appeared to have walked out of a crackly old photograph. They used flintlock, which fired with loud booms and bright flashes, and they skied on the long, wooden planks of their forefathers.
Others mixed and matched in a transitional class and a modern class, trading in the leather buckskin clothing for modern threads, the guns for newer muzzleloaders or the skis for newer versions.
"The secret is to close your eyes," said Paul Stettner, the event's oldest competitor and, on Saturday, one of the most accomplished.
Stettner guessed he has competed in 35 of the event's 39 years, and Saturday he proved himself savvy, knocking out all nine of his targets using just 10 shots. Three other competitors — all far younger than the 74-year-old — also hit nine targets, but none did it so efficiently.
That gave Stettner the marksman award, the over-70 division championship (admittedly, he was the only entrant), and first place in the transitional percussion class.
"I keep coming back because I stay in this age group with no competition," he said, drawing laughs from around the table.
Gilbert, meanwhile, cleaned up the over-60 division and the transitional flintlock division. Bob Brassell hit eight targets, winning the over-50 division and the traditional flintlock class. Scott Eggleston won the modern open class.
Susannah Lusk and Maureen Bratcher won in the team division, and Amy Tweedy won the women's division.
"We all get along with each other very well," said Gilbert, who moved away in 2001 but still returns every February for the biathlon. "For many of us, this is the only time we see each other, so it's always fun."
2013 Winter Carnival Guide
To reach Joel Reichenberger, call 970-871-4253 or email jreichenberger@SteamboatToday.com