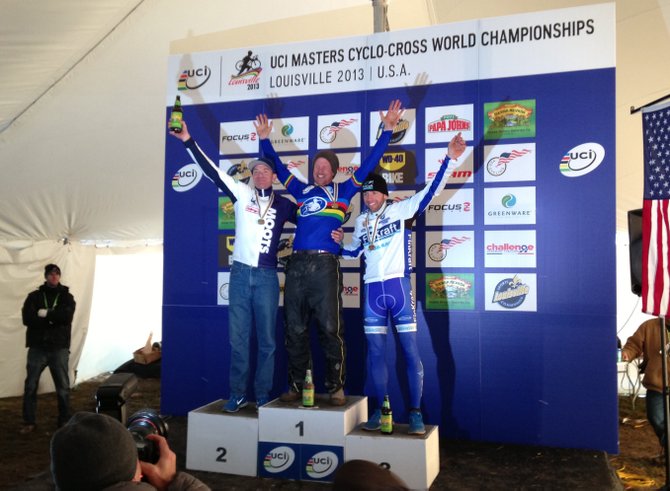 Steamboat's Cariveau scores 2nd-place finish at Cyclocross Worlds
Thursday, February 7, 2013
Steamboat Springs — The Cyclocross World Championships making a rare trip to the United States provided a chance Steamboat Springs rider Jon Cariveau couldn't pass up.
Last week, he took advantage of the opportunity, surging to a second-place finish in the masters 45 to 49 class at the massive event, which was held last weekend in Louisville, Ky.
"I came away really happy," he said. "It's a very long season. We start racing in September, and it's not easy to keep the fitness level where it needs to be while living in Steamboat, considering the amount of snow we got in December. ... I doubt myself a little bit but kept on the training bike, and I felt very fortunate to finish second."
That silver medal came in what many onlookers described as the best race in a week of action.
Cariveau won his qualifying race earlier in the week, then Friday, he and his longtime rival, the uber-accomplished Don Myrah, pulled away from the field early, going head to head on a frosty, muddy mess of a course.
Cyclocross competitors are allowed to swap out bikes during pit stops, allowing their crews to clean off the frames, which tend to become laden with mud and ice. The two competitors were making the switch on every lap.
"We changed the lead five or six times," Cariveau said. "Going into the final lap, we were basically wheel to wheel. I had a little bit of a tough time on the bike change, and he got a gap on me and took that to the finish line."

Cariveau ended up 38 seconds back, but he said that didn't put a damper on his excitement.
"It's always been a goal of mine to win one of these championships," he said. "I've come close, and now I'm a little closer.
"Now it's time to start skiing."
Jon Cariveau 2nd at Cyclocross World Championships
To reach Joel Reichenberger, call 970-871-4253 or email jreichenberger@SteamboatToday.com