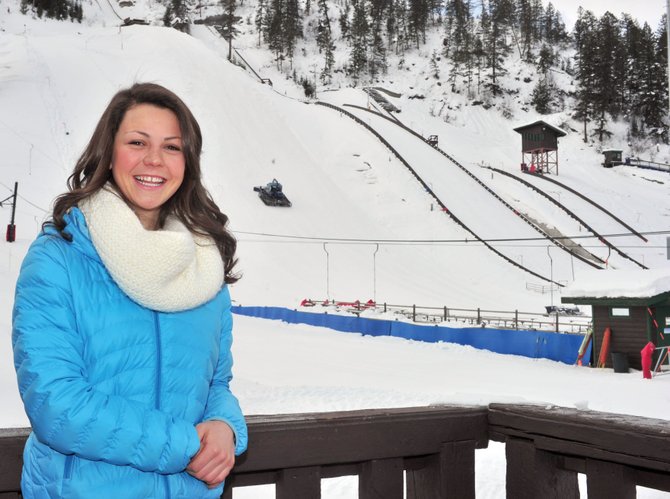 Winter Carnival 2013: A royal tradition
Former Winter Carnival queens return to Steamboat for centennial celebration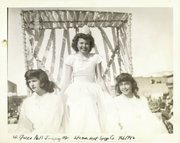 2013 Winter Carnival royalty
2013 Winter Carnival royalty
Queen
Lucy Newman
Attendants
Olivia Rudolph
Katie Brodie
Princesses
Katharina Cosby
Olivia Goldberg
Adelyn Armstrong
Merritt Flanigan
Naomi Baumgartner
Ashlyn Stamp
Leah Sullivan
Virginia Boyd
Winter Carnival celebrates its 100th year
It was February 1946, and Jean "Dody" Wegeman doesn't remember whether it was cold. But she sat in downtown Steamboat Springs, donning a pink satin gown with short sleeves and no jacket with a glimmering smile on her face.
A 17-year-old downhill skier, Wegeman had been named the first Winter Carnival queen after a five-year hiatus because of World War II.
The sister of Olympians Paul and Keith Wegeman, she will return to Steamboat Springs for the 100th Winter Carnival as the most senior of a group of about 30 former queens reuniting for the milestone event.
"It was always fun," recalled Wegeman, now 84 and living in Colorado Springs. "I'm looking forward to seeing some old friends and seeing the town. Steamboat was so important in the lives of my brothers, my folks and myself. It was so exciting to be there, live there and take part."
Wegeman will be the oldest former queen ("That's quite a distinction," she laughed) and will have the chance to meet the youngest: 2013 Winter Carnival Queen Lucy Newman.
A Steamboat Springs High School senior and Nordic skier, Newman will be honored Wednesday at the Opening Ceremonies alongside her attendants, Olivia Rudolph and Katie Brodie.
"It was a pretty great honor," Newman said. "It means a lot, especially growing up and seeing all the queens year after year."
Noble beginnings
The Winter Carnival queen is a tradition that began at the third Winter Carnival, but it was a different affair nearly a century ago.
According to Sureva Towler's "The History of Skiing in Steamboat Springs," Gladys Anita Starr was crowned the first queen in 1916 after winning a contest by soliciting the most donations to the Ski Club.
Towler wrote: "Attired in a purple velvet robe trimmed in ermine over a black net and white satin gown and carrying a bouquet of roses, the queen — attended by 12 maids of honor dressed in white satin trimmed with blue, lavender and pink bows — distributed Winter Carnival trophies."
The second year wasn't so smooth: Towler writes that a bitter runner-up claimed she was defrauded and a "massive recount" ensued.
There were no queens chosen during World Wars I or II, and in 1946, the Steamboat Springs Winter Sports Club board of directors assumed responsibility for choosing the queen.
Today, the queen is chosen from a short list of accomplished female Winter Sports Club athletes who are judged on their community involvement and academic achievements.
And Newman, a tall brunette with a smile that matches Wegeman's from the 1946 photo, said she's honored to be named the centennial event's queen.
The Winter Carnival has been an integral part of her life after she started skiing at age 2. Her older sister was Winter Carnival queen in 2010, and Newman herself was a Winter Carnival princess in 1999.
"I just remember that it was the highlight of my childhood," she said.
'A long history'
Ruth McClelland, a Steamboat Springs resident and the 1965 Winter Carnival queen, has been working with the Winter Sports Club to finalize the list of former queens and get in contact with each to invite them to the centennial celebration.
McClelland said she recalls wedging down the face of Howelsen Hill in a giant hoop skirt for her coronation, which was attended that year by the governor of Colorado.
An accomplished downhill skier at the time, McClelland (then a Schnackenberg) said she remembers Winter Carnival as an exciting annual tradition.
"It was a time that, not only did you do your competitions, but you took time out to be involved in the street events and the carnival parade," she said.
To McClelland, staying involved with the Winter Sports Club and helping with this year's celebration help her stay in touch with the skiing community and carry on the long and storied tradition of the Winter Sports Club.
From a former queen to newly crowned royalty, McClelland had a piece of advice for Newman at this important juncture in the young Winter Carnival queen's life:
"I would just say take time to enjoy the moment and realize that you are a part of history here in Steamboat Springs," she said. "It is a special time. You're being honored, but you're also becoming a part of a long history."
2013 Winter Carnival Guide