Photo Gallery
Steamboat Springs High School Nordic race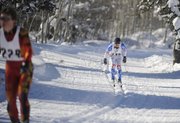 Steamboat Springs — Gabrielle Bohlmann was as surprised as anyone.
The Steamboat Springs High School senior Nordic skier honestly didn't know she had won Saturday's 5-kilometer classic ski race.
"OK. Really?" she asked. "I didn't look at results yet. But I know it felt really good."
On a picturesque Saturday, Bohlmann and the rest of the Sailors girls Nordic team took advantage of the home course at the Steamboat Ski Touring Center.
The event originally was scheduled for Leadville but was moved to Steamboat because of a lack of snow there. The move certainly helped the Sailors, who used their knowledge of the course to put up top results.
With the touring center course featuring a pair of tough hills and roughly the first 4 kilometers of it going uphill, Steamboat turned to its familiarity with Howelsen Hill and took a chance with its wax.
The Sailors' wax was designed for the second hill on the course, the Fish Creek hill. That hill sits in the shade where the snow was markedly colder. The idea was that Steamboat would be slower on the first hill — Boot Hill — but would make up time and places on the second, steeper hill.
"You always take a little risk with that," Steamboat coach Emily Lovett said. "But it seemed to work well, especially on the girls side."
Bohlmann finished the course in 20 minutes, 51 seconds. Teammate Meg O'Connell was second at 20:55.
Eliza Leeson was 13th, Lesley Myller was 15th, Olivia Rose was 20th and Lindsey Adler was 21st. Overall, the girls team won the meet with 168 points. Summit was second with 163.
On the men's side, Peter White paced the Sailors with a second-place finish, completing the course in 18:03.
Tait Dixson was 26th, Dane Dixson was 27th, Tristan Arnis was 32nd and Matt White was 34th.
The boys team was tied for sixth with 136 points. Eagle Valley won with 161 points.
For Peter White, the wax and the home course were keys. The junior is leading the Skimeister boys standings, which is a combination of results based on Alpine and Nordic results.
"A lot of kids exerted themselves on (the first hill) and Fish Creek killed them," White said. "I passed three or four up that 100-yard stretch. The snow was either super warm or super cold. We didn't have as much kick as we wanted in the sunny sections, but we had it there" on the Fish Creek hill.
The team next competes at 11 a.m. Saturday in Aspen.
After that, the Sailors head to Granby for the state skiing championships. The two-day event runs Feb. 14 and 15.
"The girls are feeling really confident," Lovett said. "The boys, the bulk I'd like to move up. They're skiing a little more aggressively. I would like to improve some of the guys' results. We're really starting to see a lot of the people that are putting in the training."
To reach Luke Graham, call 970-871-4229 or email lgraham@SteamboatToday.com