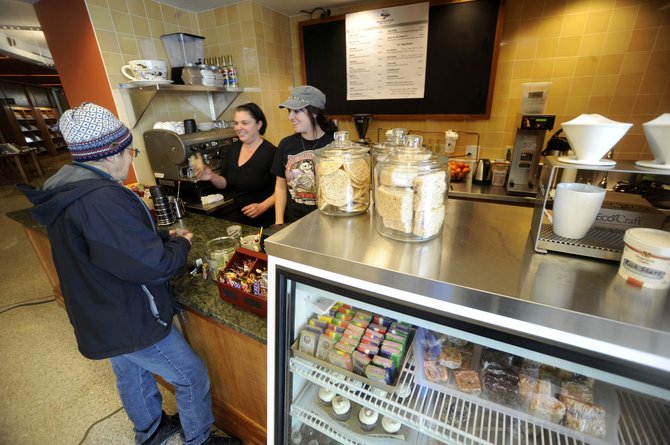 MountainBrew takes on library cafe spot in Steamboat Springs
Saturday, February 2, 2013
Steamboat Springs — Local coffee shop owners are trying to make their new Bud Werner Memorial Library location work one cupcake and cup of coffee at a time.
"It's been, well ... we're working out some kinks with getting the machines going and everything," said Tasha Compos, who opened the second MountainBrew location with her husband, Al, on Friday.
The couple has operated the MountainBrew location at 427 Oak St. for the past two years. They previously owned Spill the Beans coffee shop on 13th Street just across the railroad tracks from the library and at the base of the Fairview neighborhood.
"One of our customers from Fairview said, 'You're coming back to the neighborhood,'" Tasha Compos said.
Keeping the library coffee shop going has been a challenge for previous operators. Compos said MountainBrew will be the third coffee shop tenant in the ground flood location since 2009.
Compos said she was sad to see the space empty because she thinks it provides a needed service to library patrons and employees.
"We just felt like we wanted to give it a try," Compos said.
Compos recognizes the unique challenges and opportunities that exist with the library space. There is a lot of traffic that comes through the library, Compos said, but most of those people are there for library-specific reasons, and getting a snack or drink is not one of them.
"You just don't know what percentage of the traffic is going to be a customer," Compos said. "I'm optimistic."
Compos hopes to change that through marketing and with the help of their loyal Oak Street customers.
"We're going to do our best, and we're going to give it love and attention," Compos said.
Staff from the Oak Street location will rotate through the library location, so Compos hopes people will associate the library cafe with the MountainBrew they are familiar with.
"It's a condensed version of what we do there," Compos said.
In addition to its fair-trade, small-batch coffee roasted in Oregon, the MountainBrew library location will sell smoothies, cold drinks, grab-and-go snacks, light food items and the pastries and treats Compos bakes every morning.
"Simple but fresh and yummy," she said.
A rack in the new location was filled with MountainBrew's cupcakes late this week.
"World's greatest cupcake," customer Harry Lambart said.
To reach Matt Stensland, call 970-871-4247 or email mstensland@SteamboatToday.com