Steamboat Springs — "Defense wins championships" is usually how the saying goes in sports.
Any kind of championship for Steamboat Springs High School boys basketball is still months away, but the Sailors proved Thursday night just how badly a relentless press defense can demoralize an opponent on the hardwood.
Photo Gallery
2013 Steamboat Springs Shoot-Out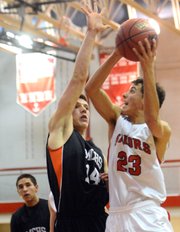 2013-14 Sailors boys basketball schedule
Dec. 7: Brenda Patch Tournament at Roaring Fork
Dec. 12 to 14: Steamboat Springs Shoot-Out
Dec. 20: 3 p.m. vs. Glenwood Springs at Pepsi Center
Jan. 10: 7:30 p.m. at Palisade
Jan. 11: 2:30 p.m. at Delta
Jan. 16: 7 p.m. at Eagle Valley
Jan. 18: 2 p.m. vs. Battle Mountain
Jan. 21: 7:30 p.m. at Rifle
Jan. 25: 2:30 p.m. at Glenwood Springs
Jan. 30: 7:30 p.m. at Summit
Feb. 1: 3:30 p.m. vs. Rifle
Feb. 7: 7:30 p.m. vs. Palisade
Feb. 8: 4 p.m. vs. Delta
Feb. 11: 7:30 p.m. vs. Summit
Feb. 13: 7 p.m. at Battle Mountain
Feb. 15: 3:30 p.m. vs. Eagle Valley
Sure, neither Steamboat nor Montezuma-Cortez scored a single point nearly six minutes into the opening round of the Steamboat Springs Shoot-Out, but it didn't take long for that press defense to assert itself.
And the offense followed not long after.
Slowly, the Sailors' lead built, from a 7-2 first-quarter lead to a 23-8 halftime gap thanks in large part to 16 Panther turnovers. A few minutes into the second half, Steamboat's offensive rhythm woke up and the Sailors marched to a 56-41 win to improve to 4-0.
The defense-first mindset is something Sailors coach Luke DeWolfe said has been the heart and soul of Steamboat basketball long before he took over the program six seasons ago.
"I think there were a little first-half jitters," DeWolfe said. "I thought our defense did what it needed to do to see our offense through that slow time. Eventually our offense caught up with it."
Paced by senior Carter Kounovsky's team-high 15 points and center Garrett Bye's 12 points, the Sailors won the first game on their home court in front of a raucous student section. Nathan DePuy pitched in 12 points, Robi Powers had seven off the bench and Zach Dunklin recorded seven of his own.
The week hadn't been kind to Steamboat on the injury front. Starting point guard Brody King sported crutches and a walking boot from the bench Thursday, and reserve Hector Lopez was out injured as well.
But Kounovsky said the team has a "swagger" that if shots don't fall, they will later. And if a starter is out, it's a next-man-up attitude.
"I'm ready to step up whenever," Kounovsky said. "It doesn't matter who's out. I will be ready."
While Kounovsky filled in nicely for King, Bye quietly took over on the block, towering over Montezuma-Cortez's tallest player, Briston Walker, who at 6-foot-3 was one full head smaller than the Steamboat big man.
"He's really starting to realize his potential and be the kind of player he can in the paint," DeWolfe said about Bye. "That will help us a lot."
DeWolfe said his team "met the challenge," speaking to injuries and a slow offensive start. The next challenge, however, might not be so forgiving.
Up next in the Steamboat Springs Shoot-Out second round is Montrose, a team the Sailors edged out in last year's home tournament but lost to in overtime in the district playoffs. The two will square off at 5:30 p.m. Friday.
Montezuma-Cortez "was a step up from some of the teams we played earlier this season, and I think Montrose is going to be another step up," DeWolfe said. "They're a team that's very, very good."
To reach Ben Ingersoll, call 970-871-4204, email bingersoll@SteamboatToday.com or follow him on Twitter @BenMIngersoll
Join the Yampa Valley VIP email club