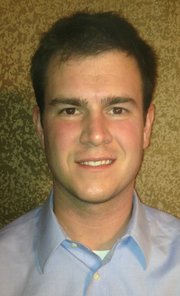 Steamboat Springs — Chris Cole said he's excited to come and lead a Rocky Mountain airport with a lot of potential.
Cole, currently the airport operations officer at the Albuquerque International Sunport in New Mexico, has been named the city of Steamboat Springs' next airport manager.
He is scheduled to start the job at Bob Adams Field on Jan. 6.
"My career path has always been airport manager, and I finally made it, so I'm excited," Cole said Wednesday. "This was a great opportunity."
The city received 63 applications for the airport manager job, and Cole, 30, was offered the job last week after he was interviewed by a panel of city staff and airport users.
"I think he brings a fresh set of eyes to the airport and a very level-headed business sense to where the airport can go," Public Works Director Chuck Anderson said.
Originally from Grand Rapids, Mich., Cole graduated from Embry-Riddle Aeronautical University in Daytona Beach, Fla.
He earned his major in aerospace studies and his minor in aviation weather, aviation business and international relations.
After graduation, Cole, in 2007, did an internship at the Casper-Natrona County International Airport in Wyoming.
According to a press release announcing his hire, Cole also has served in the planning department of the Wyoming Department of Transportation's Division of Aeronautics and as an airport maintenance technician at the Gillette-Campbell County Airport.
Cole said he was drawn to aviation as a child when he would go to Lake Hood, Alaska, and watch float planes take off and land.
He went to college to become a pilot but switched gears because of the cost. He hopes to eventually finish his pilot's license.
Cole will move to Steamboat with his fiancee, Alycia Schwarz, of Colorado Springs.
The new airport manager said he was happy to find a job that would allow him to stay in the mountain West.
Bob Adams Field is a general aviation airport that saw 11,738 operations last year, including takeoffs and landings.
A recent Colorado Department of Transportation study found the airport's average annual economic output is $8.8 million.
"I want to sit down with the city and different organizations in town and start working on a business plan for the airport," Cole said. "I want to find out what its strengths are and what its weaknesses are and get a sense for where the airport is now and where the city and the community want it to go. It's an airport with a lot of potential, and that's what excited me about applying."
To reach Scott Franz, call 970-871-4210, email scottfranz@SteamboatToday.com or follow him on Twitter @ScottFranz10
Join the Yampa Valley VIP email club