Photo Gallery
The Priceless Years: Child care in Routt County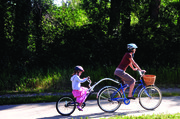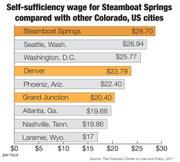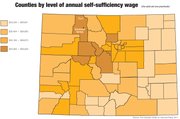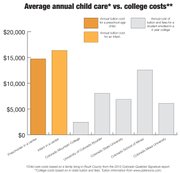 On Aug. 29, Kathy Elliott's life will change dramatically.
That's the day her daughter, Abbey, will enter kindergarten in Steamboat Springs, and the family's child care tuition bill will shrink from $12,000 per year to about $2,400.
"We want a savings account," Elliott said last week with a smile as her two energetic children played around her. "We want the new car. We'd like to take a nice family vacation."
Elliott and her husband, Brian, have just survived the cute and costly years.
They raised two kids in one of the most expensive places in the country to raise kids.
But it sure wasn't easy.
Just a few years ago, when Abbey's older brother, Connor, also was in preschool, their annual tuition bill easily surpassed $24,000, and many of the family's dreams were unattainable.
Beach vacations to Mexico were replaced with shorter trips to see family.
Child care consumed more of the Elliotts' household budget than the mortgage.
"You just didn't go out to eat as much. You just didn't have that disposable income," Elliott said last week as Connor played a round of Minesweeper on her Samsung Galaxy smartphone.
Elliott and her husband knew raising a family in Routt County wouldn't be cheap. But the $60 per day they paid per kid to have their children in a licensed child care center still came as a shock.
"It was an eye opener," she said.
On average, most parents here will fork over $16,380 per year to have an infant in a licensed child care center.
The tuition bill for a preschooler drops to an average of $14,734 per year.
It would cost less each year for parents to pay an annual tuition bill for a student attending the University of Colorado.
To survive these five expensive years before grade school, parents like Elliott are sacrificing new cars and even necessities like new clothes. Some require major financial assistance in the form of grants and scholarships.
They all eagerly await the day when their child care bill fades away from their budgets, and the struggle is over.
The waiting game
The costly years start with a long and nerve-wracking wait.
When Elliott was pregnant with Connor in 2005, she was surprised to learn she already was behind.
"Child care was so limited back then you literally came home, were pregnant and got on a waiting list immediately," she said. "Me and my husband were nervous because we were both full-time working parents looking for child care."
Today, the limited availability of licensed child care providers continues to pose a serious challenge to parents.
At Young Tracks preschool and day care center in Steamboat Springs, some new parents have waited on a list for more than a year, and many don't always get in during their child's infant years.
"When the economy was bad, enrollment was very low. Parents weren't working and didn't need care," Director Kim Martin said as a group of toddlers wearing matching tie-dye uniforms lined up in front of the center to go on a field trip to a classical music concert. "But parents are going back to work now, and slots are filling up quickly."
As the economy slowly recovers, the child care squeeze is becoming more painful for some parents.
Luck often is needed as parents scramble to find someone to care for their children at an affordable rate. Others leave their jobs and take care into their own hands.
Last year, there were an estimated 1,175 children younger than 5 in Routt County.
Tami Havener, director of Steamboat's Family Development Center, said there are 407 slots currently in licensed child care centers and 140 slots in family child care homes throughout the county.
These centers currently are able to accommodate about 47 percent of the county's children.
That means parents often struggle to get into their first choice for care.
Making things worse is the decline in the number of home-based child care centers, especially in rural areas.
Havener said the county has been losing these child care providers at a rate of a couple per year, especially during the recession.
When parents stopped working, some of the centers closed up because they didn't have enough kids enrolled.
The home-based care also tends to end when the parent running it has their children enter grade school.
"I think this is the community's answer to solving the capacity issues," Havener said about the home-based centers.
Paying for quality
The Elliotts were lucky to find someone to come to their home and take care of Connor as an infant. When he was old enough, he started at the Discovery Learning Center in Steamboat.
It is here that teachers preside every weekday over organized chaos.
As a storm rolls in over Mount Werner, the children quickly are shepherded inside where they scatter into many groups to paint pictures, launch Hot Wheels off steep wooden ramps and give one another pretend surgeries using soft, plastic medical equipment.
Years ago, Havener explains, child care was just about finding a safe, comfortable place for children to be supervised. Today, there's more of a drive for quality teaching and a focus on early learning.
Study after study shows children's education in the first years of their lives is critical to their future success.
The brain is being molded every day.
Havener pulls out a binder that shows the many things children are required by the state to learn at the centers before they enter grade school. Each child's progress carefully is observed and recorded.
But this drive for quality and early learning comes at a cost.
Teachers have to be more qualified and higher paid.
There are new rules and regulations to which child care centers must adhere, but often without new revenue to cover the increased work.
And many centers stress that although their tuition rates are perceived to be high, they still are not charging enough to actually cover the cost of running the facility.
"One of the reasons Discovery is more expensive than other centers is we're nationally accredited," Havener explains. "We have some higher benchmarks. We have to have quality teachers. Higher quality does cost more."
She said the average salary for a teacher at child care centers in a rural resort community like Routt County is $15 an hour.
The higher quality of teaching isn't the only thing that is driving up the cost of care for parents and centers.
The fuel that is required to go on field trips has gotten costlier. Heating bills are going up. Mortgages must be paid. Health benefits for employees cost more.
"The cost of doing business has gone up," Havener said. "People who move here from somewhere else are shocked by the cost of tuition."
Tough choices
Cait Holmes saw the startling numbers.
For her husband and two young children to make ends meet in Routt County, the family would need to bring in an estimated $78,818 in combined income, according to a state self-sufficiency study conducted in 2011.
In 2008, the same family would have needed $65,791.
Today, the average daily rate for licensed child care centers here for children who aren't yet potty trained is $64.
Parents of children older than 2 1/2 pay an average of $57 per day. That's $285 per week, about $1,100 per month and more than $12,000 per year.
"We basically knew this information when we started our family and knew that paying $2,295 a month for child care would never be an option," Holmes wrote in an email that described her journey through the child care maze. "That's almost 2 1/2 times our rent."
To be able to raise her children, Holmes said it was more cost effective to leave her job at Steamboat Ski Area.
The same is true for many parents.
In addition to a full-time job, Holmes' husband started working part time in the evenings to help cover the costs.
Still, Holmes said she enjoys staying at home to raise her children who are 1 1/2 and 2.
"I do love being able to stay home and raise and take care of our children myself," Holmes wrote. "We just have to cut back to the basics to financially make it happen and still be able to live in Steamboat Springs."
Each family's financial picture is unique in the costly years.
Some get assistance from grandparents.
Others make enough money at work to get through this phase of life without much of an impact to the lives they had before they had children.
But most depend on other sources of revenue.
That's where organizations like First Impressions of Routt County step in.
Funding is limited, but First Impressions works with Routt County United Way, the city of Steamboat Springs and the county to provide scholarships to families.
Last year, the Discovery Learning Center offered $144,000 in scholarships.
More than half of the families required some form of assistance.
"We also had to dip into a reserve to make our budget because that's where families are at," Havener said.
Worth the struggle
Parents who survive the costly years often say they'd repeat the struggle in a heartbeat.
That's because the children they raise in Routt County appear to turn out to be somewhat superhuman.
In North Routt, toddlers as young as 3 don't even seem to pant as they make the strenuous ascent to 10,839 feet and the summit of Hahn's Peak.
In Steamboat, youngsters are able to ski down the black diamond run at Howelsen Hill well after the sun sets.
Some have had their eyes on the Olympics since the moment they started walking.
And in rural parts of the county, many children are adept at farming and ranching before they leave grade school.
Behind all of these children are the parents who have chosen to raise a family in a special place that hosts award-winning schools, safe streets and endless opportunities.
It is in this environment a child's "superhuman" powers are fostered.
But they do come at a great price.
"We choose to live in Steamboat," Elliott said as her two children continued to play.
They play hockey.
They ice skate.
They mountain bike.
"We could probably have moved and found child care much cheaper somewhere else," Elliott continued. "But this is such a great family community we wanted to struggle and make it for the long-term effects of the community and what it offers."
To reach Scott Franz, call 970-871-4210 or email scottfranz@SteamboatToday.com