The Steamboat Pilot & Today's monthly Coffee and a Newspaper gathering in August has been moved to Aug. 14. During the gathering from 7 to 9 a.m. in the newspaper's office, 1901 Curve Plaza, readers are invited to meet with the newspaper's new editor, Lisa Schlichtman, as well as Suzanne Schlicht, who will resume the role of publisher and take over day-to-day operations of the newspaper.
Property rights activists discuss energy in area
A group of property rights activists comprising more than 100 ranchers, farmers and landowners from Moffat and Routt counties gathered Thursday at a ranch outside Steamboat Springs to discuss the future of energy development in the Yampa Valley, according to a news release.
Members of the Citizens Supporting Property Rights group attended the gathering along with state and local lawmakers, including Routt County Commissioners Tim Corrigan and Stephen Ivancie, Craig City Council member Ray Beck, Colorado State Rep. Bob Rankin and State Sen. Randy Baumgardner.
"I am on a crusade for local activists who are fighting for their property rights and the right to use their land," Rankin said in the release about his efforts as a lawmaker at the Capitol in Denver.
Corrigan and Ivancie spoke about their experiences with creating local rules and regulations surrounding oil and gas development on private and public land.
"Routt County over the last two years has gone through a pretty contentious process in permitting oil and gas wells," Corrigan said in the release. "I think as difficult as it was, it was something that needed to happen because it gave everybody an opportunity to come to the table and really talk about what their concerns were around oil and gas development … and I think through that process we have managed to satisfy a lot of the concerns of people who have been opposed in general to oil and gas development."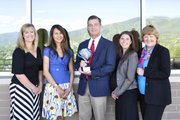 CMC's Terry Hunter receives Anthony Marshall Award
Colorado Mountain College professor Terry Hunter recently received the Anthony Marshall Award from the American Hotel & Lodging Educational Institute, according to a news release. The award honors leaders in hospitality training and education.
Hunter, who has taught at CMC for 25 years, is director of the resort management program at CMC's Alpine Campus.
"I am honored and appreciative to receive this award and will do my best to uphold the expectations of the people and organizations involved in selecting me," Hunter said in the release.
Hunter said the award was a team effort and credits the program's adjunct instructors — including Deidre Saunders, Cho Tin Tun, Kyleigh Lawler and Barbara Robinson — for making the college's resort management program stand out.
"We work as a team at CMC, and I view this as our award as much as mine," he said in the release. "I appreciate the faculty, staff and administration, top to bottom, for their commitment and professionalism. I could not be happier with the performance of our department."