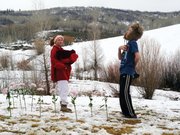 Steamboat Springs — Steamboat Springs seventh-grader Zoe Walsh signed up to do behind-the-scenes work on the film "Ruby vs. Wolfgang" but found herself in front of the camera instead, playing a fluttery and flaky middle school student in a fractured fairytale.
"It's just fun," she said. "Just pretending that you're someone else."
In three weeks, the cast of about 10 students will have the chance to watch themselves on the big screen seeing the final cut of the film for the first time during a film festival at Steamboat Springs High School that's being organized.
"I'm probably going to laugh at myself," said Zach Walsh, Zoe's brother.
Erus Harrington, who plays the male lead in the film, said acting is something he wants to pursue beyond middle school after performing in Piknik Theatre and now in the film.
"It's just a rush, it makes me feel good after I do it because I'm proud of myself," he said.
KPA Productions, a Steamboat-based company owned by Kelly Anzalone, has been making movie stars of middle schoolers for four years with support from the Steamboat Springs Arts Council after the middle school theater program was cut.
This year, a $2,000 grant from the Education Fund Board helped them up the ante using dollies, cranes and as many as seven cameras per shot, director Michael Staley, of KPA productions, wrote in an email.
"It was a very ambitious production schedule covering 15 pages in only 4 1/2 days," he wrote. "We had the weather to contend with for our exterior shots and the varying availability of the students and locations."
The crew was made up of two high school students and two middle schoolers, supervised by KPA's Anzalone and Yoshi Yonekawa. The group filmed at the school and on the campus of Perry-Mansfield Performing Arts School and Camp.
Staley was onset helping each student bring out the wolf — or whatever animal they were representing — in themselves.
This is no ordinary "Little Red Riding Hood" tale. In "Ruby vs. Wolfgang," a fractured fairytale is told from the point of view of the wolf, who turns out to be the protagonist.
"For the story, we basically pulled a "Wicked"… and are retelling the popular tale of "Little Red Riding Hood" from the supposed antagonist's perspective," Staley said. "The Wolf has been hired by a filmmaker to tell 'his' side of the story as long as he reminds the audience what the traditional story is."
"He's this nice, silly British guy," Erus explained about his character. He said he learned the accent all on his own. "I just kind of taught myself how to do it by watching videos," he said.
Anzalone said he hopes to expand the program to other schools in Routt County to help expose them to the world of film production at a young age.
"Exposing them to the higher tech, the real deal of filming, it's really interesting," Anzalone said. "The kids are behind the camera, too, they get to run things. And we get more and more kids that want to do that each year."
To reach Nicole Inglis, call 970-871-4204 or email ninglis@ExploreSteamboat.com