Photo Gallery
First snow on Mount Werner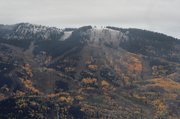 The first snow of the season showed up Wednesday morning on Mount Werner.
Keep up with the conditions
- For local weather conditions and recent coverage of Steamboat Springs weather, visit SteamboatToday.com/weather
- View webcams of Steamboat Springs at SteamboatToday.com/webcams
- For weather information from the National Weather Service, including storm warnings and advisories, visit www.wrh.noaa.gov/
- The Colorado Department of Transportation provides road conditions, closures and traffic cameras at www.cotrip.org. For travel information by phone, call 511 from anywhere in Colorado or dial (303) 639-1111.
- For flight information, visit www.flightview.com/ TravelTools/. By phone, call Delta Airlines at (800) 241-4141; United Airlines at (800) 864-8331; and American Airlines at (800) 433-7300
Steamboat Springs — Storm Peak saw its first dusting of snow above 10,000 feet as Steamboat Springs received rain Wednesday.
Two measuring stations in city limits measured 0.4 inches of precipitation overnight Tuesday as a light rain continued to fall Wednesday morning.
On Buffalo Pass, the Tower measuring site had three-quarters of an inch of snow Tuesday and more overnight as its total was 0.9 inches of precipitation for the preceding 24 hours as of Wednesday morning.
Art Judson's measuring station between downtown and the mountain has logged 0.86 inches of precipitation for the month. His 0.4-inch total Wednesday morning makes the previous 24 hours the biggest rain event this month, beating the 0.24 inches that fell Sept. 3.
Despite the rain this week, Steamboat still is behind its September monthly average of 2.19 inches, according to the National Weather Service.
The National Weather Service said to expect more snow above 10,000 feet as storms linger in Northwest Colorado through Thursday night.
To reach Michael Schrantz, call 970-871-4254 or email mschrantz@SteamboatToday.com