Document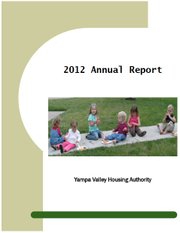 Past Event
Tuesday, September 18, 2012, 5 p.m.
Centennial Hall, 124 10th St., Steamboat Springs
All ages / Free
Steamboat Springs — The Yampa Valley Housing Authority will present its annual report to the Steamboat Springs City Council and the Routt County Board of Commissioners during a joint meeting that starts the council's 5 p.m. Tuesday meeting.
The annual report states the Housing Authority is considering removing the Elk River Village property from the real estate market.
"That will give the YVHA the flexibility to be more patient waiting for a stronger real estate market and allowing either future development or sale of the property," the report states.
The Housing Authority also has worked to improve the terms of its loan and reduce its monthly payments, according to the report. A previous appraisal led to a value of $1.5 million for the property, which was reflected in a lowered asking price and a lower asset value on the Housing Authority's balance sheet.
Elk River Village is an undeveloped 10.76-acre parcel near U.S. Highway 40 and Routt County Road 129 on Steamboat's west side. It originally was approved as a private sector neighborhood of small, single-family homes. The Housing Authority purchased the property in 2006 and had been making total annual payments of about $110,000 to cover only the interest on the initial $2 million loan. In early 2012, the loan was restructured to include some principal.
Earlier this summer, the Housing Authority countered two separate purchase offers for the property, although officials weren't optimistic that either deal would get completed. George Krawzoff, who was the Housing Authority's executive director at the time, said in early July that neither offer would have satisfied the agency's debt on the property.
Krawzoff was terminated as executive director a few days later. Krawzoff has contested his firing, and the Housing Authority's board of directors won't say what prompted his dismissal.
Also at Tuesday's meeting, City Council will consider a request to turn over an affordable housing fund established by an intergovernmental agreement between the city and Routt County to the Housing Authority. The fund was started in 2003 with contributions from both entities totalling $250,000, and the city was designated as the holder of the fund.
Yampa Valley Housing Authority Board President Rich Lowe said the organization would like to use the funds to tackle an existing project at Fish Creek Mobile Home Park.
Lowe said water and sewer lines at the park need to be upgraded, and he estimated the work might cost as much as $700,000 to $850,000. The $250,000 from the affordable housing fund would be a great start toward getting the money to complete the project, Lowe said.
The Housing Authority was formed through an intergovernmental agreement between the city and county. It receives annual operating funds from both entities each year as well as revenues from the management of several affordable housing developments in Steamboat Springs.
To reach Michael Schrantz, call 970-871-4206 or email mschrantz@SteamboatToday.com.