Thomas Smiley to lead new CMC restaurant program
Sunday, September 2, 2012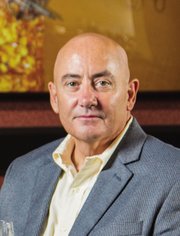 Steamboat Springs — Thomas Smiley will lead the new restaurant/culinary management program at Colorado Mountain College's Alpine Campus, according to a news release.
"We are delighted to have Tom lead our new program and share his extensive experience and knowledge with our students," instructional chairperson Sam Rush wrote in the release.
Smiley began working in the restaurant industry in high school and graduated from Johnson & Wales University in Providence with an associate degree in culinary arts, according to the release.
He then worked as a chef for several years in various private restaurants before continuing his education at James Madison University in Virginia, where he graduated with a Bachelor of Science in hotel and restaurant management before earning his Master of Business Administration at Drexel University in Philadelphia. After graduating, Smiley re-entered the restaurant industry and worked for brands including Holiday Inn, Bally's Hotel & Casino, Sheraton, Marriott and Embassy Suites during the next 20 years, according to the release.
Since 2003, Smiley has taught at the Illinois Institute of Art in Chicago, the Art Institute of Colorado and Johnson & Wales University, among others.