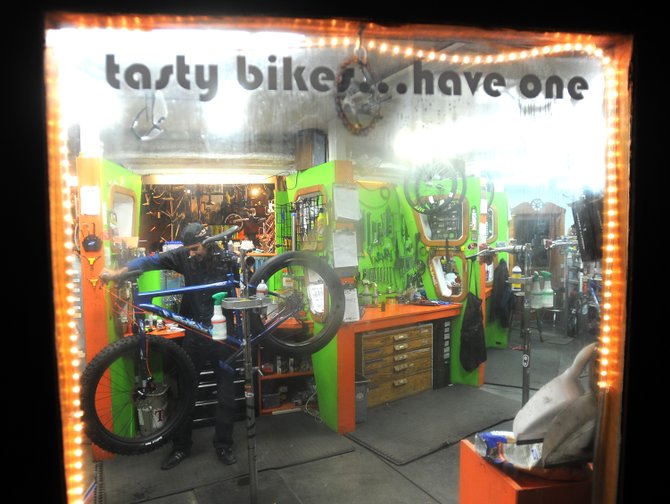 There are plenty of ways to make the most of this no-snow November
Thursday, November 29, 2012
Occupy your time in Steamboat
The wait for snow can be excruciating. Here are a few ways to get that outdoors fix:
Ski Howelsen. The downtown ski area opens Saturday with access to most of the main face of the mountain. Lift tickets are $20 for adults, $15 for seniors and children ages 7 to 18, and $8 for skiers 6 and younger.
Ride a bike. Cyclists suggest the Ridge or Rotary trails on the back side of Emerald Mountain or Mad Creek for mountain bikers. Road riders could hit gravel roads, which don't have much traffic and are in great shape for riding.
Go for a run. The Steamboat Ski Touring Center is playing host to a 3.7-mile running race at 10 a.m. Saturday. Find more information and register here.
Cast a line. Fishing rarely is bad in the Yampa River, and things are going great right now.
Steamboat Springs — It's the spring that makes this so difficult, the spring that fires the fears and darkens the prerogative. If it had snowed in April or even March, maybe the fact there was little snow in November and only a few chances in the 10-day wouldn't seem so preordained, so depressing.
Alas, it was a crummy spring for skiing, and it's been a crummy fall for skiing. But Steamboaters aren't the type to turn their free daylight hours over to "Everybody Loves Raymond" marathons, and of course, they've found plenty to do.
Here are a few popular options while we wait for the snow to fall:
Take a jog
The Turkey Trot this year soared to new heights, reaching a participation record of 260 runners. They got the message, and so have many others, who never put away the jogging shoes.
That's something of which the crew at the Steamboat Ski Touring Center are well aware. Few in town count on snow the way the Touring Center does, and few are handling the problem quite as creatively.
The Touring Center will play host to a running race at 10 a.m. Saturday.
A year ago, the center managed to operate cross-country skiing trails consistently, starting on Nov. 15. This year, the early storms that swept through the Yampa River Valley weren't enough to warrant opening, and without any snowmaking capability, there's been nothing to do but wait.
"Yeah, it's slow," said Phil White, manning the center's pro shop Thursday. "We only have one person here per day, and we're just getting stuff done. There are still a few people coming in. The shop is open."
There aren't trails to ski on, but the center hopes to draw a crowd Saturday with a 3.7-mile race that will take place on many of the same trails that, in a perfect world, would be filled with skiers this time of year.
The course will offer the rare opportunity to run through the Rollingstone Ranch Golf Course, sticking to golf cart paths. The race will cost $15 for runners ages 14 and older and will include a one-day cross-country ski pass good through Jan. 31.
If there's not snow by then, there are bigger problems than an unused ski pass.
"We just wanted to do something to let people know we're open," White said. "A lot of our Nordic skiers are runners, too.
"It's going to be like the opposite of Winter Carnival. That's skiing down Main Street. Now you're running down the ski trail."
Go for a ride
Plenty of would-be skiers simply have opted to put off switching sports.
A few moments in one of the town's bike shops makes that evident. Brock Webster, owner of Orange Peel in downtown Steamboat Springs, said he's been running with a skeleton crew, as he usually does during the offseason. They've stayed more than busy.
"We had nine repairs dropped off on Monday alone," he said.
It may seem like everything is just fine for bike riding, but there are a few trails riders should be wary of and common-sense rules they should keep in mind.
Many of the trails on the frontside of Emerald Mountain are too muddy to be ridden. The Bluffs Loop is dry, according to reports, but others are mucky through most daylight hours. All the trails are frozen in the morning, but once they thaw, it's best to stay away.
The trails on the backside of the mountain, including Ridge and Rotary, are in better shape.
"Mad Creek is also still in great shape," Webster said. "The frontside trails on Emerald — I'm not recommending anyone go up there — I've seen some pretty muddy bikes come down. It's only doable if you don't have any ethics."
The road riding also has been divine, cyclists said.
Corey Piscopo is one of the town's most regular riders throughout the summer, but he said he loves to cross-country ski or backcountry ski during the winter.
This year, he's still on his road bike, taking advantage of what he said is a unique opportunity.
"It's really quiet around town, especially on the back roads, so it's a good time of year to get out there because there's very little traffic," he said.
He's been targeting gravel roads, dry and smooth now thanks to the lack of precipitation, and recommended the 30-mile loop around Emerald Mountain. That ride heads out of town on 13th street, hangs a left on Routt County Road 45 and eventually meets back up with C.R. 14 on the southeast end of Steamboat.
There's a lot of safety concerns to consider. For one, bundle up appropriately because it gets cold fast when the sun goes down.
Be sure to have lights, as well, for any late-afternoon or evening riding, and beware of black ice after the sun sets.
"It's definitely easy to get yourself into a world of hurt if you're not safe and paying attention," Piscopo said.
Maxing out
There may not be snow, but there's plenty to do, locals said.
The fish are biting in the Yampa: Wednesday yielded reports of some nice trout in Chuck Lewis State Wildlife Area upstream from Steamboat on the Yampa River.
Howelsen Hill opens Saturday and offers a steep pitch and plenty of man-made snow. And, of course, there's Steamboat Ski Area, running its snow guns anytime the temperature allows.
And therein lies the good, the bad and the ultimate answer for many local ski and snowboard bums: It might have been easy to skip an April day in the face of less-than-ideal conditions, but the appetite is a bit different now. Even with few trails and a scrawny base, making the most of it in Routt County could still involve a trip to the ski area. And can that ever really be a bad thing?
To reach Joel Reichenberger, call 970-871-4253 or email jreichenberger@SteamboatToday.com