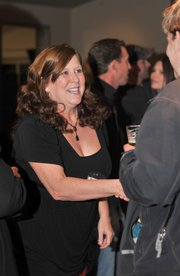 Steamboat Springs — It's a love story, really. That and serendipity brought the Chief Plaza Theater its new executive director.
Tamara Beland moved to Steamboat Springs in August to be with the man she loves. She left a good position in Denver — "determined to land on (her) feet" — and was driving through downtown when she saw "Fin?" on the marquee at the Chief.
Thinking to herself about the potential of the venue, she researched the Chief and contacted Friends of the Chief, the nonprofit that purchased the theater, and submitted a proposal to the organization.
Friends of the Chief interviewed five finalists for the executive director position, and Beland was offered the job Sunday.
On Wednesday, the complete Friends of the Chief board of directors got its first chance to meet Beland at Sweetwater Grill.
Beland comes to Steamboat after spending six years in Denver. She's familiar with the city from time spent here away from the Front Range.
In Denver, she worked as the director of facilities, housing and transportation at the Eating Recovery Center, a hospital focused on eating disorders. Before that, Beland lived in Austin, Texas, and worked as the director of operations at the Austin School of Music and started her own nonprofit, the Austin Arts and Music Project.
Her stint at the Eating Recovery Center gave her experience with construction and facilities management, she said. Beland also has experience in grant writing, marketing and fundraising and brings to the Chief a background as an actress and a singer.
"This job is a culmination of all my jobs over the years," Beland said. "It takes all of it into the perfect storm."
Jim Cook, president of Friends of the Chief, said Wednesday that when Beland asked him about the budget for midterm renovations at the theater, he said, "There is no budget," but he said she was asking the right questions.
Valerie Stafford, another Friends of the Chief board member, said what drew the hiring committee to Beland was her mix of experience in theater, bookings and facilities.
She has a "natural knack for people," Stafford said. Beland's history of working with nonprofits also helped make the decision, she said.
"We can really fulfill our vision and inspire others to take advantage of the facility," Friends of the Chief board member Melanie McDaniel said about hiring a director.
Stafford said the board is happy to have a full-time, dedicated person to manage the venue after having to distribute duties among volunteer board members.
Beland said she's a "boots on the ground" type of person and is dedicated to making the Chief a community asset. She also said she will be open to input from residents.
Beland said she "jumped off a cliff" to move to Steamboat, but she's committed to seeing the Chief prosper.
"The people you have on the board are smart, talented and successful people," Beland said. "And they're determined to succeed."
To reach Michael Schrantz, call 970-871-4206 or email mschrantz@SteamboatToday.com