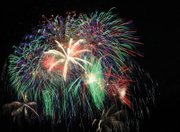 Passing the torch
Billy Petersen and Karl Fredell have helped Tim and Scott Borden put on the Fourth of July fireworks show for years. So when the Bordens wanted to move to the background and have someone else run the show, the two instantly applied.
"There are a lot of volunteers behind the scenes, but we're really lucky," Petersen says. "We get to legally and responsibly play with fireworks."
Although the Bordens still will supply the fireworks, Petersen and Fredell will run the show. "It's a great opportunity to get into a unique niche," adds Fredell, who recently got his Display Fireworks Operators License, which involved studying rules, regulations and safety, and passing a 75-question test.
And Tim Borden is pleased with the new fuse-lighters. "They take pride in the show," he says. "The crowd won't see any difference."
To volunteer to help with the show, email skipetersen@gmail... or kfredell@steamboa... or call 970-846-5374. 
Tim Borden was a wide-eyed second-grader in Montreal, Quebec, when he laid eyes on his first love.
Bins and bins of fireworks lined the walls, and 7-year-old Tim instantly was enamored with all things explosive. 
"They had a buffet of fireworks," he says. "They'd sell them by weight, and you'd scoop up as many as you could."
Not a lot has changed for him, and he passed on the love of all things fireworks to his son, Scott. But now, 17 years after first putting on the Fourth of July fireworks show in Steamboat in 1995, the Bordens are passing the torch to locals Billy Petersen and Karl Fredell. 
Still, their passion for fireworks hasn't dwindled. If anything, it's grown. Tim recently completed the arduous process of getting his license to manufacture fireworks and has already made two 24-inch and two 36-inch-diameter fireworks. Since fireworks that size can't be transported, they thought, "Why not build them?"
They shot a 24-inch shell off last year in Lake Havasu, Ariz., and plan to shoot one off in February at the 100th anniversary of Winter Carnival. They hope to shoot a 36-inch shell off at the Fourth of July fireworks show. The largest shell shot off at the July Fourth 2010 show was 16 inches in diameter. 
"It'll be different than any other thing people have seen here," Tim Borden says. "We're making the 100th anniversary special."
If the display is unique, so is building the shells. They use a machine designed and patented by Connecticut pyrotechnician Jim Widmann, who came to their workshop this fall to show them how to make shell casings. Widmann has sold more than 300 machines to 27 countries, including the Russian Federation, and now there's one in Steamboat. The contraption features two Inkjet-like engines that rotate an exercise ball that gets wrapped with gum paper to make the casing. A computer ensures the paper is fed in correct layering patterns, and it takes 10,000 feet of gum paper to make the casing.
After the casing is done and dried, the circular shell is cut in half, and the Bordens spend a week making all the inner stars. When all is said and done, the shell will weigh at least 150 pounds and require 15 pounds of granulated black powder to shoot off and reach an altitude of 2,500 feet.
Fireworks this big are very uncommon, says Widmann, who's been making fireworks for 50 years.
"The last one I know of was two or three years ago," he says. "Steamboat should have the claim of firing the largest shell in America this winter."