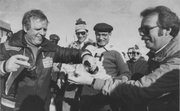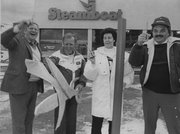 Hans Geier's Steamboat legacy
Changes at Steamboat during Geier's tenure as ski area president with Martin Hart and the Northwest Colorado Ski Corp. from 1981 to 1990 included:
• Construction of the Silver Bullet gondola, the world's first eight-passenger gondola, in 1986. It tripled the uphill capacity of the slower Stagecoach gondola.
• Installation of the Sunshine and Storm Peak chairlifts that were the precursors to today's high-speed quad lifts
• Addition of Rendezvous Saddle dining facility, Ragnars in 1984
• Opening Sunshine Bowl and its 400 new acres of terrain in 1984
• Construction of the Valley View trail in 1986
Steamboat Springs — Former Steamboat Ski Area president Hans Geier, who presided over an era of notable changes at the resort, has been elected to the 2012 class of the U.S. Ski and Snowboard Hall of Fame.
He and five others will be inducted April 13, 2013, in Vail at the conclusion of Skiing Heritage Week.
Geier, 79, became president of Steamboat Ski Area in 1981, the year the first snowmaking system was installed on the slopes of Mount Werner. During his tenure, Steamboat established its direct flight airline program and built the world's first eight-passenger gondola when some said it wasn't practical.
"I asked, 'Why not build an eight-passenger gondola?'" Geier recalled Monday from his home in Tree Haus. "Some of the lift manufacturers didn't want to do it. Doppelmayr said it could be done but it wouldn't be simple."
The new gondola wasn't just bigger, it was faster, too. It increased the uphill capacity of Steamboat's gondola from 900 skiers to 2,800 skiers per hour.
Geier, who lives in Steamboat with his wife, Roberta, was planning to go skiing at Copper Mountain this week but said that once the winter really settles in, he'll do his skiing in Steamboat. He remains very active. In spite of having a handful of fused vertebrae in his back and a "lame foot," he biked 1,100 miles last summer and hiked 100 miles in nine days in Glacier National Park, he said.
Geier rose to a high level in the ski industry in spite of the fact that the death of his father when Geier was 12 prevented him from pursuing higher education in his native Austria.
"My father was killed in the second world war," Geier said. "When I was 14, I had to go support the family. I got into the textile business, mixing chemicals and colored dyes. I was promised many times I would be sent to chemical engineering school, but they never did. I was not a member of a prominent family in the town."
Frustrated, in winter 1960-61 Geier immigrated to Canada to become a ski instructor and where he was able to take his exam in his native language. After two years of teaching at Gray Rocks, he spent a summer ski season in Chile. When he returned a year later to the Laurentian Mountains of Gray Rocks, it was as the ski area's assistant ski school director.
"From there I became the ski school director at Ski Roundtop in Pennsylvania. Before the season was out I was made general manager, and from then on, I was always a general manager or president at the ski area where I worked," Geier said.
He arrived in Steamboat on the heels of the discouraging snow winter of 1980-81, when Steamboat recorded just 133.25 inches of snow at mid-mountain. It was the era when Martin Hart, of the ownership group Northwest Colorado Ski Corp. took a very active interest in the ski area.
Rod Hanna, who was the resort's public relations director, recalled that at the time the new snowmaking system was seen as a means of maintaining the ski area's base into the spring. But snowmaking also allowed Steamboat to open for Thanksgiving weekend for the first time and send a strong market signal that the season here was off to a fast start.
Working during Geier's tenure, then marketing director Kent Myers helped lead the creation of Steamboat's direct airline flight program, Hanna said. The runway expansion project undertaken with Routt County made Steamboat far more accessible to vacationers.
The story Geier tells about how the ski area came to build Hazie's fine-dining restaurant on the second floor of the Thunderhead building at the upper gondola terminal gives insight into a more freewheeling era in the ski resort business.
"Hazie's wasn't in our (1986) budget, but I knew that Aspen and Vail already had fancy restaurants on the mountain," Geier recalled. "We had The Stoker at Thunderhead and there was a deck on top of it at the time. I was looking at the deck with Bob Kuusinen (former ski area department head) and I asked him, 'How good is this deck?' He said it was leaking and I said, 'Let's build a restaurant here.' I think it turned out pretty well."
Geier also is proud of Steamboat's Kids Ski Free program.
"We were the first in the nation, and that first year we saw a 76,000 increase in ski days. That was about 12 to 14 percent at that time."
After leaving Steamboat in 1990, Geier finished his ski industry career as president of Doppelmayr Corp. for North America from 1994 to 1998.
Geier goes into the U.S. Ski and Snowboard Hall of Fame with hot dog skiing legend Wayne Wong, world champion mogul skier Jeremy Bloom, world championship super G silver medalist Kirsten Clark, early world champion snowboarder Craig Kelly, and fellow Austrian and originator of the American Teaching Method of skiing Horst Abraham.
To reach Tom Ross, call 970-871-4205 or email tross@SteamboatToday.com