Oil & gas issues in Routt County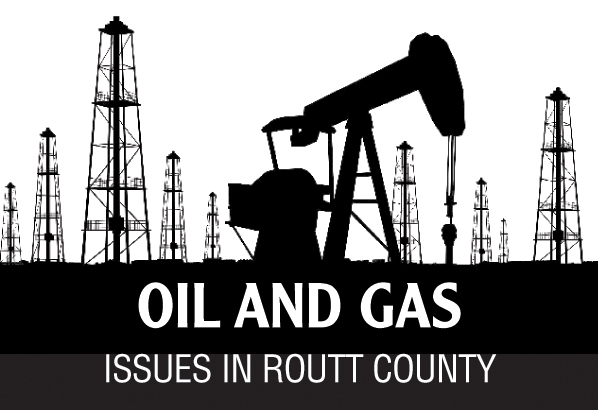 Longmont voters ban fracking
The city of Longmont already has been sued by the state of Colorado for going too far in limiting oil and gas development through its permit procedure. Now, the citizens of Longmont have voted to amend the city charter to ban hydraulic fracturing of oil wells and storage of the fluids used in the process in the city limits.
Tuesday's vote in favor of the ban represented 59 percent of the total vote of more than 28,000 people, according to an article in The Denver Post. The question was petitioned onto the ballot.
Energy exploration in the city northeast of Boulder has been a hot issue since 2011, when an energy company proposed to drill near a reservoir.
The Post reported that energy industry advocates spent more than $500,000 opposing the ban, and citizens groups advocating for the ban spent more than $400,000 by the end of October.
Election 2012

Click here for coverage of this year's races and issues.
Steamboat Springs — After an Election Day that saw three of the four local candidates most closely aligned with their group lose, key players in Citizens Supporting Property Rights said Thursday that they will continue to engage elected officials and residents in Routt County.
"I certainly hope the membership remains engaged," Hayden resident and Citizens Supporting Property Rights organizer Amy Williams said. "This is still an important issue, and we still have a very strong legal argument and position to advocate for."
Citizens Supporting Property Rights is the advocacy group that formed in the midst of the 2012 political campaign to advocate for people in Routt County who have a financial stake in the Yampa Valley's exploratory oil field, chiefly in the form of subsurface mineral rights. Members have taken umbrage at measures the Routt County Board of Commissioners has taken to place conditions of approval on new oil well permits that go beyond what the Colorado Oil and Gas Conservation Commission requires.
At stake is the potential for substantial royalty payments that could reach many thousands of dollars representing a percentage of the value of oil that comes out of the ground.
Three of the four candidates from Northwest Colorado whose views most closely matched up with those of Citizens Supporting Property Rights were defeated in Tuesday's election. The exception was Republican Randy Baumgardner, the winner in Senate District 8 race against Emily Tracy, a Democrat from Breckenridge.
Baumgardner stated emphatically throughout the campaign that existing state rules are more than sufficient to ensure oil exploration is carried out responsibly.
County commissioner candidate Jim "Moose" Barrows, who spoke out for property rights; commissioner candidate Tina Kyprios, who cautioned against running good oil companies out of Routt County and urged the community to address its fears on the issue; and House District 26 candidate Chuck McConnell, who emphasized energy exploration as the best way to increase employment opportunities, all were defeated by decisive margins in Routt County on Tuesday.
Barrows was defeated by South Routt Democrat Tim Corrigan, who said during the campaign that he supported the actions of the current Board of Commissioners and that the next step at the county level would be to focus on the social and economic impacts of energy exploration.
Kyprios lost to incumbent Routt County Commissioner Doug Monger, a Democrat and rancher who acknowledged during his candidacy that his position as a commissioner in regard to oil and gas regulations went a little past his personal comfort zone. However, he said his actions were reflective of what the majority of his constituents want to see in terms of responsible energy exploration.
McConnell lost to Diane Mitsch Bush, a Routt County commissioner who steadfastly has advocated for increased environmental protections in the wake of growing energy exploration interests here.
Asked Thursday if the election results were a disappointment, Harry Thompson, who moderated Citizens Supporting Property Rights' candidate forums, said: "Yeah, I'm a little bit disappointed in the election, I would have like to have seen a more pro-business (county) commission."
Going forward, Thompson said, he expects his group to continue to advocate for owners of mineral rights, but it won't limit itself to energy-related issues.
"Want to see businesses be able to open and start and be successful here," Thompson said. "We're not just about the oil and gas thing, we're about personal property rights for citizens. We're not going away."
Williams was philosophical about the election results.
"It was not overly surprising or disappointing. It just is what it is," she said. "The thing about elections is that there are very few people who are single-issue voters. We're advocating for property rights, but it's just one issue among a broad, giant scope of issues."
In a Sept. 19 letter to the Steamboat Today signed by Williams, Thompson, Jody Camilletti, of Milner, and Steve Elkins, of Steamboat Springs, the Citizens Supporting Property Rights leaders said their members don't consider oil and gas companies either as enemies or friends but as business partners.
"Routt County farmers, ranchers and business owners are culturally patient and polite. Respect for neighbors and community has resulted in our silence," they wrote. "But silence is no longer an option because a minority of individuals has taken things too far. So far, in fact, that our rights as landowners are being impacted. Now, as interest groups attempt to restrict or prohibit oil and gas development in our county, we've organized to provide a clear alternative view."
To reach Tom Ross, call 970-871-4205 or email tross@SteamboatToday.com