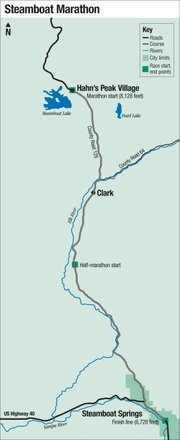 Traffic delayed
There will be traffic delays on Lincoln Avenue and detours on Routt County Road 129 on Sunday because of the Steamboat Marathon. There will be one lane of traffic in each direction on Lincoln Avenue downtown during the race from 6 a.m. to 3 p.m. between Fifth and 11th streets. All of the sides streets in that span between Lincoln and Oak also will be closed. Traffic on C.R. 129/Elk River Road southbound will detour onto C.R. 44. Northbound traffic will not be affected. Traffic on 129 north of Cullen's Corner to the start of the half marathon, at Moon Hill, will be controlled by a pilot car and long delays can be expected. The Steamboat Springs Chamber Resort Association encourages people to walk, bike or use Steamboat Springs Transit.
Race information
Race packet pick-up and registration
■ Racer packets can be picked up from noon to 5 p.m. today and from 10 a.m. to 5 p.m. Saturday at Olympian Hall at the base of Howelsen Hill in downtown Steamboat Springs.
■ Registration is still available at packet pick-up.
■ On the day of the race, buses are only picking participants up downtown, and not at the Gondola Transit Center.
Where to watch
Most of the full and half-marathon will take place on Routt County Road 129, which goes north out of the west end Steamboat Springs. Much of the road will have traffic delays for the day, however, making it a bad place to watch the race. Better ideas include:
■ Downtown. All of the races finish in front of the old Routt County Courthouse on Lincoln Avenue in downtown Steamboat Springs. The lawn in front of the courthouse will be buzzing all day with activity, including an 11:45 a.m. Honey Stinger Fun Run for children 5 years and older.
■ Cullen's Corner. Routt County Road 44 offers a way around the mostly closed C.R. 129, and spectators can park at Cullen's Corner, where 44 intersects with 129 and the Elk River. The road breaks left off of 129 1.5 miles north of the 129 and U.S. Highway 40 intersection, just past Steamboat Springs Airport.
Marathon schedule
■ Friday
Noon to 5 p.m. — Packet pick up at Howelsen Hill
■ Saturday
10 a.m. to 5 p.m. — Packet pick up at Howelsen Hill
■ Sunday
5:45 a.m.-6:30 a.m. — Transportation to the start of the full and half marathons.
7:30 a.m. — Start of the marathon, half marathon and 10-kilometer race
11:45 a.m. — Kid's Fun Run
1 p.m. — Race courses closed
Steamboat Springs — The time to train has come and gone, but no matter how many miles a runner has logged this spring, the next 48 hours could make or break his or her looming date with Sunday's Steamboat Marathon, Half Marathon and 10K races.
Several local experts said the several days before a big race can be just as important as the weeks and months spent training. A proper diet and schedule can help set the stage for success.
"It's all about trying to be sharp and feel positive," said Greg Long, the Steamboat Springs High School track coach and one of the city's most avid and experienced runners.
On the top of the list of advice for those planning to lace 'em up in Sunday's wee hours is a proper diet. There's a lot more to it than a Saturday night feast on a pot full of spaghetti, however.
Steamboat Springs dietician and Running Series director Cara Marrs said a gradual increase in carbohydrates in the days leading up to a race will have a much more positive impact than a gut-busting, carbo-loading feast the night before.
"Several days before the race they should start increasing the carbs a little bit daily," she said. "Loading up just the night before might cause you to be sluggish or interrupt your sleep."
On the plate, that can mean a salad with carb-filled beans, a protein-packed chunk of chicken or fish, or even that spaghetti — but in a reasonable portion. That should go along with an effort to stay hydrated, not just the morning of or during the run, but in the days leading up to it.
On Sunday morning, a good source of complex carbs should be the goal in a breakfast eaten about two hours before the race start. That means a 5:30 a.m. meal.
"You want something that will be slow to digest," Marrs said. "You don't just want to have a white bagel, but maybe oatmeal, a whole grain or yogurt, and some berries."
It's not the time to try anything new, however. Stick with something your stomach is comfortable with to avoid mid-race regrets.
Long said establishing that routine can be critical. That goes for food and beverages during the race — watered down Gatorade can be great, he advised — and even for the sleep schedule.
"A lot of people aren't used to running in the morning," he said. "Get your body in rhythm. It's like a time-zone change. If you're not used to working out in the morning and do a morning race, you're at a disadvantage."
Tune the body for that crack-of-dawn start. At the same time, be sure to get plenty of sleep, especially two nights out.
"It's an old wise-man's tale that it's not the night, but the night before," he said. "It takes that long for sleep to catch up to you."
As for the day of, Long and Marrs suggested slipping a couple of gel packs in a pocket. There are well-stocked aid stations along the route, although not as many as there are in big-city marathons.
Having a little something for a energy boost between those stations can make a huge difference.
"It's always a good idea to have your own source of water and maybe a few gels just in case you need something and there's no aid station," Marrs said. "Drink water in sips, maybe 5 ounces every 30 minutes."
To reach Joel Reichenberger, call 970-871-4253 or email jreichenberger@SteamboatToday.com