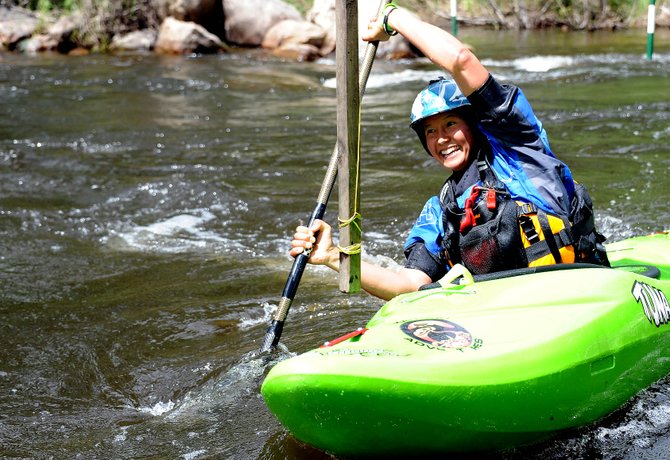 Steamboat residents, foreigners battle in kayak slalom
Photo Gallery
Yampa River Festival: Sunday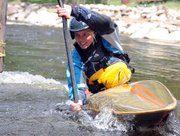 If you go
Monday
Paddling Life Pro Open
Noon to 3 p.m. Pro Rodeo at Charlie's Hole near Bud Werner Memorial Library
4 to 6 p.m. Fish Creek race (subject to stream flows)
Online
Steamboat Springs — Much about Sunday's kayaking slalom competition seemed the same as in previous years.
Steamboat Springs' creek runners and play boaters got a thrill out of trying their hands at running the gates. Couples laughed, bickered and cooperated as they paired up in tandem boats, and Steamboat teenager Luke Farny blazed through the course, recording the morning's fastest time for the third consecutive year.
A foursome of adventure-minded foreign women added all the fresh excitement the morning needed, however.
"It was really fun," Dutch kayaker Martina Wegman said. "It's fun just to be in your kayak, and it's nice to be on the river and do all the activities."
In the United States for a season of kayaking and in Colorado for next week's Teva Mountain Games in Vail, the group came to Steamboat and the Yampa River Festival at a friend's suggestion. They also plan to compete Monday in the Paddling Life Pro Open, which begins at noon at Charlie's Hole.
On Sunday, they put on a powerful demonstration of their paddling prowess, surging with ease through the slalom course at Dr. Rich Weiss Park on the Yampa River. They ducked under and around the gates, first with their own creek running plastic boats and later with borrowed slalom-specific crafts.
They made it look easy — turning, cutting and dipping — controlling themselves as though they were driving a car on a race track, not a boat on a river.
"The slalom skills are a little bit different but can still use your whitewater skills," Wegman said. "There are small differences, but a lot of the girls had never been in a slalom boat and did pretty well on the course."
Their acumen paid off in the final standings. Farny was the fastest through the course, finishing in 58.63 seconds. Louise Jull was second, using a slalom boat to finish in 1:00.9, and Wegman was third, her time of 1:00.7 bumped up to 1:02.7 when she incurred a two-second penalty for bumping a gate.
Wegman, meanwhile, was the fastest in a plastic boat, finishing in 1:08.07 and breaking up a boys club filled with locals. Adam Mayo was second, in at 1:10.8, and Eugene Buchanan was third at 1:12.6.
"This is such a cool event," said Jull, who, along with Toni George and Shilo Gibson, was visiting from New Zealand.
"We came here to California just to go creek boating, then to go to Vail, but our friends came here last year and they said, 'You have to go to Steamboat. It's so much fun and the locals are so nice,'" she said. "We came, and it's been just how they said it was."
To reach Joel Reichenberger, call 970-871-4253 or email jreichenberger@SteamboatToday.com