Wildfire prevention tips
■ Human-caused fires are preventable. Act responsibly with all outdoor fires.
■ Smoke in clear areas and be sure matches and cigarettes are completely extinguished.
■ Spark arresters are necessary for internal combustion engines such as chain saws, motorbikes, ATVs, weed eaters, generators and lawn mowers.
■ Don't park in tall, dry grass because catalytic converters can ignite fires.
■ Take steps to protect your home from wildfire. Remove flammable materials from decks and porches, and make sure debris that could lead a fire to your home is removed. Regularly mow grass and other vegetation near your home.
Source: Northwest Colorado Fire Management Unit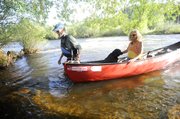 Steamboat Springs — Conditions remain ripe for wildfires in Routt County, which has local officials urging people to use caution during the holiday weekend.
A red flag warning has been issued through this evening for many parts of Western Colorado. The warning is the result of low humidity, dry vegetation and strong winds that could include 70 mph gusts this afternoon in Routt County.
"Any use of fire outdoors is discouraged as fires will have the potential to spread quickly and be difficult to control, so we ask the public to refrain from lighting fires during those (red flag warning) periods," said Lynn Barclay, of the federal Bureau of Land Management.
Fire restrictions still are in effect for unincorporated parts of Routt County, but at least one popular activity for campers is spared. Campfires are still allowed at designated campgrounds and recreational sites, but recreational fires at homes within the restricted area are not allowed.
Restrictions have not been imposed by federal agencies such as the U.S. Forest Service or Bureau of Land Management in Routt County. State lands also are not affected by the restrictions.
Under the restrictions for unincorporated areas of Routt County, which don't include Forest Service and BLM lands, agricultural burns and campfires are banned. Smoking is banned except within an enclosed vehicle or building, a developed recreation site or while stopped in an area of at least 3 feet in diameter that is barren or cleared of all flammable material. There also are restrictions on operating chain saws and welding.
The strong winds are not expected to subside until Memorial Day, when temperatures will top out at 69 degrees, according to the National Weather Service. Saturday's high temperature is forecast at 77 degrees, with the high dropping to 59 degrees Sunday.
The Colorado Department of Public Health and Environment has issued a blowing dust advisory for Western Colorado through 10 p.m. Saturday. The National Weather Service has similarly issued a high wind warning for Routt County through 10 p.m. Saturday. Sustained winds of 20 to 40 mph are expected, with gusts of 60 to 70 mph likely.
"In areas where blowing dust has reduced visibilities to less than 10 miles, people with heart or lung disease, older adults and the very young should reduce prolonged or heavy indoor or outdoor exertion," the blowing dust advisory states.
To reach Matt Stensland, call 970-871-4247 or email mstensland@SteamboatToday.com