2 Steamboat lacrosse players make all-state team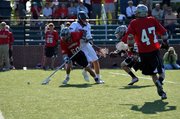 Steamboat Springs — The Steamboat Springs High School boys lacrosse program enjoyed its best season this year, the team wrapping up the regular season with just one loss, then advancing to the second round of the state playoffs for the first time.
Those Sailors are on track for after season awards they won't soon forget, either.
Eric Trousil and Lance Ostrom were selected to Colorado's all-state lacrosse team, and they'll represent Steamboat on Tuesday in a set of games with the other all-state choices.
"I feel pretty privileged to have that award given to me, for sure," Trousil said. "It's definitely a good way to end my sports career in high school."
It wasn't news that Steamboat landed a player on the team. Sailors coach Bob Hiester said the game is purposefully inclusive and players from most teams in the state get a crack at competing.
The news was Steamboat getting two players on the team, another first for a program that has enjoyed a wealth of them this spring.
"Obviously, we're being recognized as a quality program," Hiester said. "We have some high quality players and this is a real feather in their cap."
Trousil and Ostrom will travel for games Tuesday at Regis on the Front Range. Players from the state's eight lacrosse leagues are split into four teams, and each team will get two games.
The Mountain Conference will partner with the Foothill Conference.
"These are the best players in the state and these kids get a chance to run with them, so it's awesome," Hiester said.
Not only do they get to share the field with some of the best players in the state, they get to don the honor themselves.
"It's pretty cool," Trousil said. "It will be cool just to see all those kids there and see all the amazing players out there in Colorado. I really feel privileged."
To reach Joel Reichenberger, call 970-871-4253 or email jreichenberger@SteamboatToday.com