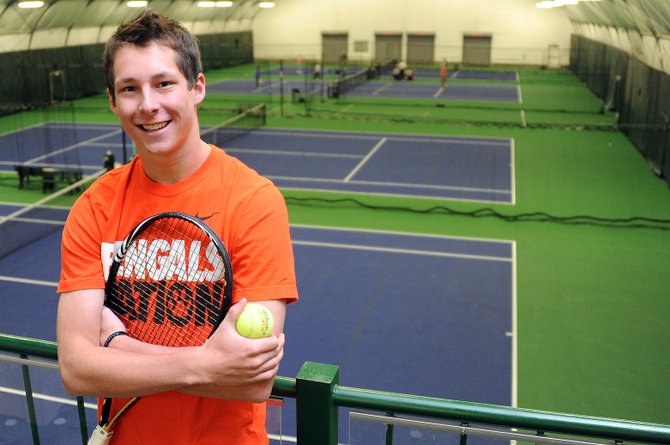 Steamboat's Jamey Swiggart signs with Idaho State
Steamboat Springs — Andre Agassi is on notice. 
Ever since Jamey Swiggart started playing tennis, just about every declaration he's made has come true. 
When Swiggart was 5, he told his parents first he would beat his dad, then his mom and then Agassi. 
Swiggart beat his mom at age 11 and his dad at age 14. 
As for Agassi, "that probably won't happen," Swiggart said. 
But it doesn't discount Swiggart's ability on the court. The Steamboat Springs High School senior has committed and signed to play tennis at Idaho State University. 
"To get to where I am now, playing Division I tennis, is a huge success for me," Swiggart said. "But the community helped me out tremendously."
Swiggart has had a racket in his hand as long as he can remember. He has been known on the Intermountain circuit for years, often as one of its top players. 
And when there weren't any other 10-year-olds to play with, Swiggart started to beat adults. 
It hasn't all been easy for Swiggart. 
Despite a senior year that saw him beat several defending state champions, a wrist injury prevented him from playing at his best. A back injury kept him out his entire junior year, but it also inadvertently started steering him toward Idaho State. 
With the back injury, Swiggart went to physical therapy three times each week. It was there he started to find his interest in that potential career field. 
So when he started looking at colleges, he knew he wanted to go somewhere with a physical therapy program as well as a tennis program. 
He considered the University of Northern Colorado but ultimately found what he was looking for in Pocatello, Idaho. 
"I think he'll do well," Steamboat tennis coach John Aragon said. "One thing is he wants it. He's physically maturing right now. I really believe that his best tennis is ahead of him."
Swiggart said he is going with the intention of playing next season. He will have to be among the top six on the team to play. 
"I know college tennis is a whole new animal," he said. "You're competing against kids from the whole nation and the world."
To reach Luke Graham, call 970-871-4229 or email lgraham@SteamboatToday.com