Fire weather watch in place for Friday
The National Weather Service's Grand Junction forecast office is warning Routt County residents of increasing fire danger Friday, when strong winds, high temperatures, low relative humidity and a chance of thunderstorms combine to create dangerous conditions given the region's dry vegetation.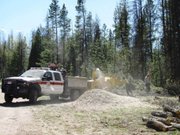 Steamboat Springs — For the second summer, grant money is allowing firefighters in South Routt County to help residents protect their homes from wildfires.
"We're going to create some good fire breaks up there with these projects," Oak Creek Fire Protection District Chief Chuck Wisecup said Wednesday while firefighters were completing their annual physical fitness test.
The $173,000 project includes the cost of equipment and for three firefighters to work in the Stagecoach area this summer. Another firefighter will join the project later to help burn slash piles once the snow begins to fall. Wisecup said the fire district is contributing $15,000 in cash for the project and $87,000 in other services, including use of equipment, administrative costs and housing. The Colorado State Forest Service is providing $71,000 for the salaries of the firefighters.
The work of the fire mitigation crew will help supplement the efforts by homeowners in the Stagecoach area, where miles of county roads meander through forests filled with dead lodgepole pines. Wisecup estimated the mountain pine beetle epidemic killed 75 percent of the lodgepole pines in the Stagecoach area, leaving behind a tinderbox that continually threatens homes in nearby subdivisions.
With so many dead trees, the amount of work that needs to be done is immense.
"The next 10 years I have before I retire, I can have a crew every summer and still not be done," Wisecup said.
The fire mitigation services are being offered for free to residents who want to create a "defensible space" that will help protect their homes from wildfires. Creating that space entails removing trees and other vegetation that could help a fire spread from the woods to the structure.
"There will always be the risk there, but these projects will minimize the risk," Wisecup said.
A major part of the work involves getting rid of the wood that would be fuel for a wildfire. With fire restrictions in place, burning has not been an option, and the crew members have been chipping the wood instead.
Wisecup said the top priority for work this summer is clearing trees and vegetation from along the roads. This will help ensure residents a safe way to evacuate should it be necessary. It also will allow firefighters access to and from potential fires. Wisecup said there currently are some roads that he would not send firefighters down.
"It's too dangerous," he said.
The mitigation crew consists of James Moon, John Heath and supervisor Rob Bringuel, who worked for the U.S. Forest Service for 15 years. Bringuel said he is looking forward to helping residents protect their homes and property.
"We really hope that people are taking a proactive approach with fuels management around their homes," he said.
With one wildfire already in the Stagecoach area earlier this spring and with continued dry conditions, Bringuel said they are ready to help and can serve as an initial attack team for wildfires in the area.
"I've never had to be ready this early," Bringuel said.
To reach Matt Stensland, call 970-871-4247 or email mstensland@SteamboatToday.com