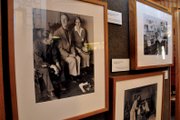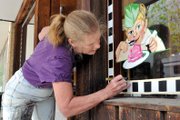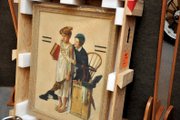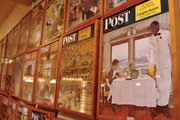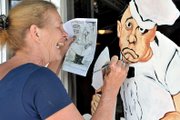 If you go ...
What: Norman Rockwell Saturday Evening Post exhibit
When: Opens Monday and continues through Sept. 28
Where: Museum of Northwest Colorado, 590 Yampa Ave.
— The exhibit is free and open to the public.
Quotable
"It's just a tremendous opportunity for the community to see something that they would normally not get to see."
—Janet Gerber, Museum of Northwest Colorado assistant director, about the Norman Rockwell exhibit opening Monday at the museum
The crate waited Tuesday, the word "fragile" stenciled in red on its plain wooden side.
What lay inside was unlike anything found at the Museum of Northwest Colorado.
Encased in light plastic to protect it during its long journey from Stockbridge, Mass., was Norman Rockwell's "Spirit of Education," an original painting on loan from the Norman Rockwell Museum, and the crown jewel of the museum's most expensive exhibit to date.
"When we opened it, I wanted to be left alone in the room with it for an hour," museum registrar Mary Pat Dunn said.
The painting will take center stage in an exhibit showcasing the artist whose paintings graced The Saturday Evening Post's covers for nearly 50 years.
Original tear sheets from all 323 of the magazine's covers featuring his work line both balconies at the museum and spill onto displays nearby.
That the museum was able to obtain an original Norman Rockwell painting was a statement in itself.
"The Norman Rockwell Museum normally does not loan out originals," said Janet Gerber, assistant museum director. "But they felt like because they've worked with us on two different occasions, they felt comfortable with the integrity of the museum."
The painting puts the capstone on an exhibit that costs about $28,000, all of it paid through the museum's mineral lease funds.
The exhibit's arrival prompted changes throughout the museum, including the installation of LED lighting and a spruce-up of existing exhibits, Gerber said.
Yet Dunn believes the work she and other museum staffers put into the project was worth the effort.
Obtaining the exhibit is "just another step forward that solidifies, quite frankly, our integrity and reputation as a museum," she said.
Showing a collection of Rockwell's work, along with the museum's newly opened interactive exhibit inspired by late Hayden photographer Nick DeLuca's "Death Duel" photo, have had an impact.
"Between those two … it's a process that this year had certainly brought it to a different level than it was before," Museum Director Dan Davidson said.
More than anything, however, Gerber sees the exhibit as a gift to the public.
"It's just a tremendous opportunity for the community to see something that they would normally not get to see," she said.
The exhibit opens Monday, but already its influence has spread throughout Craig.
The museum partnered with the Moffat County Tourism Association to promote the exhibit.
The result was a program designed to generate top-of-mind awareness through an effort to "paint the town Rockwell," MCTA Director Melody Villard said.
The task of recreating Rockwell's work falls to one local artist.
On Friday morning, Nini Shroyer paused from a morning's work in the 500 block of Yampa Avenue downtown, her brushes and paints close to hand in her van nearby.
From her vantage point on a sidewalk bench, she surveyed the downtown area, trying to remember how many Rockwell-inspired paintings she'd completed recently on nearby storefronts.
A $1,500 allocation from the City of Craig, which the Craig City Council approved at its Tuesday meeting, will pay half the cost for her paintings, and business owners are picking up the rest.

As of Friday morning, Shroyer had completed around 15 paintings, and more businesses are signing up all the time, Villard said.
Tom and Jessie Cramer, of Cramer Flooring at 575 Yampa Ave., didn't have to think long about getting their names on the list.
"I love Norman Rockwell," Jessie said. "He's been one of my favorites since I was a little kid."
When Shroyer approached her with the idea, "I was instantly like, 'Yes, we're on board,'" she said.
The project also garnered an unequivocal response from the Craig City Council.
"There was absolute enthusiasm — no opposition whatsoever — on (the) council to the idea that we'd throw a few dollars in the kitty to help promote the exhibit there," Craig Mayor Terry Carwile said.
His business, Downtown Books, is also one of the shops involved in the program.
"I really think it's something the community will get behind and I really think it will be something good for the whole downtown area," he said.
For her part, Shroyer enjoys a chance to study one of the American masters.
Copying any skilled artist can only make her own work stronger, she said, and Rockwell's technique is gradually revealing itself to her with each brush stroke.
Shroyer resonates with his style — positive, simple and real to life, she said.
She respects the quality, not to mention the quantity, of the work he produced during his lifetime.
"Damn, the guy was good, you know, and he's done so many paintings," she said.
A long list of paintings waited for Shroyer on Friday morning, but she doesn't mind the work.
Invoking Rockwell's unique vision is a reward.
"I just enjoy the good vibes that his stuff has," she said. "It's not insulting to anyone or going to upset anyone. "It just makes people feel good."
Click here to have the print version of the Craig Daily Press delivered to your home.