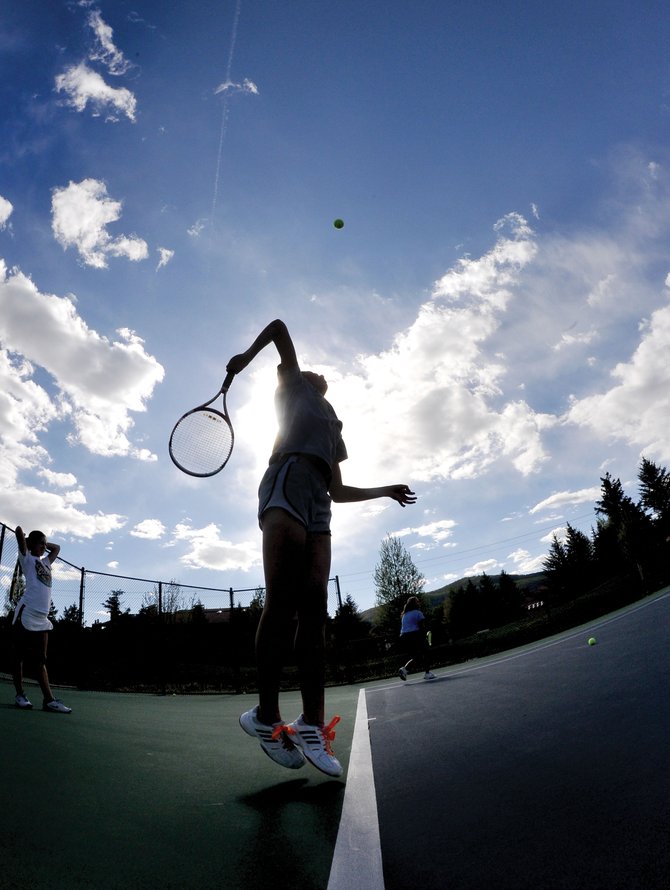 Steamboat girls tennis set for state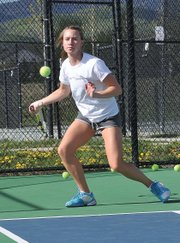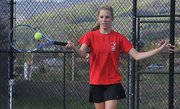 2012 Sailors girls tennis schedule
Steamboat Springs — If all goes well, sure, there may be a bigger match. But even that's debatable.
The Steamboat Springs High School girls tennis team stands Thursday on the verge of the state tournament, with all seven of the squad's entries and all 11 varsity players poised to dive into three days of serves and volleys, tears and glory at Pueblo City Park.
But just what kind of weekend it turns out to be could be decided before the clock even strikes noon Thursday.
If some of the Sailors are able to march through the weekend, a Saturday date in the state championship awaits, but perhaps only that final match will carry more weight than Thursday's tourney openers.
At state tennis, there are few matches more important than the first.
"It's important for the team, for points, and obviously it's just important to get to the next round," No. 1 doubles player Ali Diehl said.
There is a consolation bracket at the tournament, but only two of the eight first-round losers in each 16-player bracket will get a chance to play their way back into the tournament. Only those who lost to eventual finalists get that chance.
How important is that first match? Ask some of the Sailors who've lost them in the past.
Action gets under way at 9 a.m. Thursday in Pueblo, and the first players could be back off the court by 10.
Lose that first match and a player might not know for another 24 hours, after the semifinals, whether or not her season is over. There's little to do in that time besides wait, worry and cheer, both for teammates and for the stars to align to get back into the tournament.
"It's awful," said Steamboat senior Alli Lowrie, part of the No. 1 doubles team. "There's nothing you can do. If it's your match, you at least feel like you have some control."
That first match also can set a trend for the weekend. Nothing's quite as empowering as a strong victory. A hard win, meanwhile, can leave a player exhausted or unconfident heading into the afternoon's quarterfinals.
"It's important for a doubles team because if you and your partner can work together and get past that first round, it gives you a lot of confidence in each other," Diehl said. "It gives you a lot of confidence that you can do it."
If things don't work out, the player can be left Friday morning with shoes tied and uniform on, all dressed up but with nowhere to go. There's nothing to do but remember the match that got away in the opening minutes of what is annually one of the most fun weekends of the season for the team.
"I hate being in that situation, so I'm going in and giving it my last hurrah for my senior year," No. 1 singles player Christi Valicenti said. "It's key to go in there as focused as you can and fight for every point."
Fortunately for the Sailors, coach John Aragon said he has a roster full of athletes capable of facing down that first big challenge and stomping into Saturday.
Steamboat won five championships at last weekend's regional tournament. Valicenti is fresh off a close and exhilarating loss in that event, rallying from a 5-1, match-point situation in the second set to force a third, 7-5, then take a 4-1 lead there before falling, 6-4.
There and everywhere the Sailors are tested and eager to start the tournament.
"We really want to medal," said senior Summer Smalley, playing at No. 3 doubles with Brooke Metzler.
Rachel Grubbs will play at No. 2 singles, Ellie Bender at No. 3 singles, Shealie Jenkins and Kira Lorenzen at No. 2 doubles and Malia Fraioli and Katie Spencer at No. 4 doubles.
"Our mentality is to play our best, stay aggressive, keep moving and play at our level," Smalley said. "Medaling would show all the hard work we put in this season. It'd be a great accomplishment."
To reach Joel Reichenberger, call 970-871-4253 or email jreichenberger@SteamboatToday.com