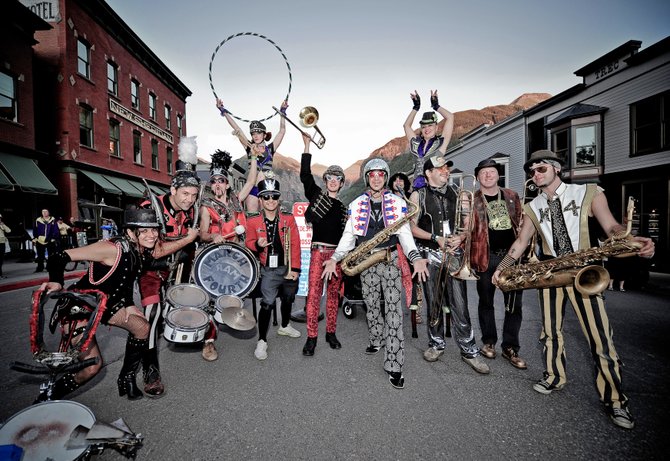 MarchFourth Marching Band to play free concert
Steamboat Springs — Free Summer Concert Series organizers announced Thursday that the MarchFourth Marching Band is set to play the series Aug. 17.
A location for the show has yet to be announced, as this year's series is splitting the shows between Howelsen Hill and Steamboat Ski Area.
More than just a band, MarchFourth is a traveling performance troupe, bringing acrobats, stilt walkers, dancers and lively theatrics to its live shows across the world.
Coleman Cook, Free Summer Concert Series board secretary, said the series is looking to step outside the box with this show.
"We're excited about it," he said. "It's something a little different ... it looks like a lot of musical energy and lot of visual energy onstage, and it ties in well because that weekend is All Arts Festival weekend.
"I think we're trying to make more of an effort to bring some new bands to town and turn Steamboat onto some new music and some different stuff."
Hailing from Portland, Ore., MarchFourth played its first show March 4, 2003. Today, the eclectic touring group is made up of a seven-piece brass section, a five-piece percussion corps and a host of dancers and performers.
Anchoring the band's New Orleans-rooted style is a funky electric bass, and vocals and world themes work their way into the swing- and jazz-flavored music.
The Free Summer Concert Series is in its 21st year and kicks off June 30 with Dark Star Orchestra playing at Steamboat Ski Area. Trampled by Turtles also is set to play July 13. For more information, visit the series' new website at www.keepinitfree.com
March Fourth