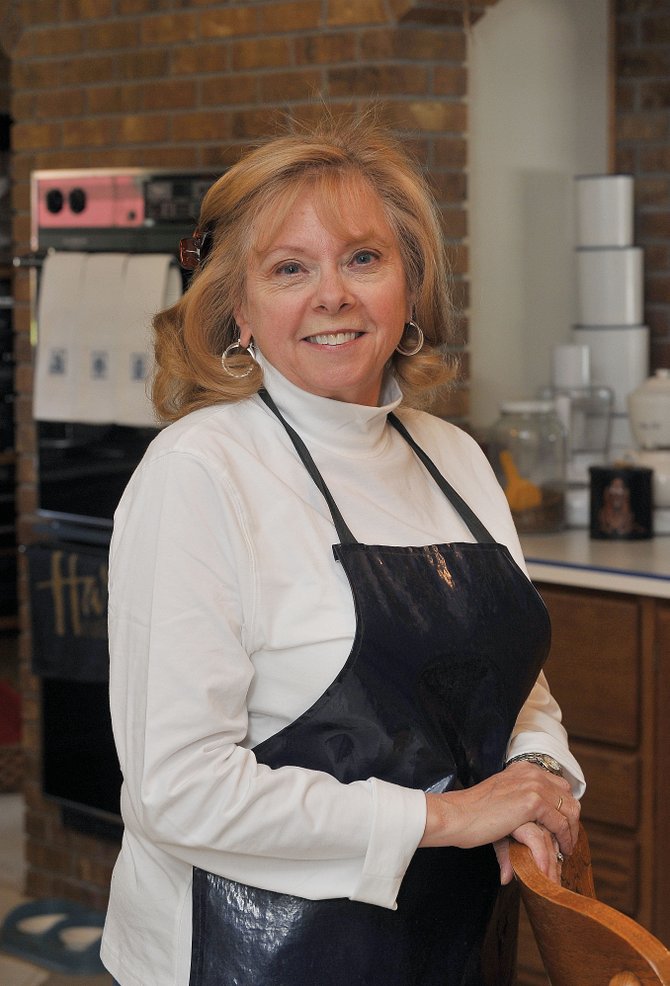 Nanette Waneka: Calories, carbohydrates and chocolate
Food is one of life's most enjoyable pleasures. Eating is an opportunity to socialize, to share family traditions, to celebrate events, to entertain friends and family and to nurture a love with food. I get pleasure from preparing meals for my family, but we become bored with the old standbys. Oftentimes I cannot prepare another boring culinary creation from my limited repertoire of meals. Contrary to what my children say, mac and cheese is not my specialty.
To put a kibosh on the complaints of "Not this again," I search the kitchen shelves for a cookbook. There are many waiting to be dusted off and read. When traveling, I purchase cookbooks as souvenirs that could easily fit among the dirty clothes in a Samsonite bag. I have titles from international destinations that include "A Little Irish Cookbook," "Tastes of Kenya," "Cooking From Cyprus," "German Home Baking" and "Desert Hospitality." They are reminders of adventures in exotic places, of flavors that tantalize the palate and of aromas that tease the nose.
My travels with children took me to Disney World, where I acquired "Cooking with Mickey Around the World." If a mouse can create Chicken Pago Pago and cheese soufflé, there's hope for me. Other national cookbooks in my library come from states such as Maryland, Pennsylvania, Hawaii, Colorado and California. My collection of cookbooks includes hand-me-downs from relatives, who now frequent fast food joints or purchase Healthy Choice and Lean Cuisine meals at the frozen food counter in the local supermarket. They no longer worry about "What's for dinner?"
The hand-me-down titles are a bit tamer and less exotic. "Crock Pot Cooking," "Make a Mix Cookery," "The Culinary Arts Institute Encyclopedia Cookbook" and "The Southern Living Annual Recipes" with volumes from 1979 to 1991. "Martha Stewart Cookbook of Collected Recipes for Every Day" sits on my shelf, too.
Another weighty group on the shelf encompasses the latest of the fad diet craze. Weight Watchers, South Beach, "Eat More Weigh Less," "Dr. Phil's Weight Loss Solutions" and "The Hippo Cookbook." Skipping over that shelf, I'll reach for my favorites, "The Happy Cooker" volumes I and II, "The New Enchanted Broccoli Forest" and the "Hershey's Chocolate Treasury."
Leafing through the cookbooks, I realize food and recipes have a vocabulary all their own. Starting from top to bottom, body parts describe food items. There is a head of lettuce, an eye of round steak, an ear of corn, a rib of celery, a rack of lamb, then, rump roast, kidney beans, fish fingers and a heel of bread. My modest grandmother would order chest of chicken. She couldn't bear to be improper and say "breast."
In exploring and investigating ingredients, grapes, bananas, radishes and parsley hang out in bunches. Lettuce and mint come in leaves. Pepper can be cracked, whole or ground. Concoctions may be heavenly as in ambrosia and angel food cake or sinister as in Just-For-The-Halibut, deviled eggs and dump cake.
Cooking and preparing food is an exercise that can rival a Pilates workout. A chef can pound, dice, slice, braise, dust, julienne, shred, melt, shave, tear, chop, beat, stir, fold, grind, mince, coat, frost, ice and even fricassee. When choosing potatoes, we can have them stuffed, fried, mashed, hash browned, whipped, scalloped, baked and even twice baked. If no time, you can even have those spuds instant.
I have some serious questions about the ingredients listed in these recipes. What about extra virgin olive oil? Can one buy just virgin olive oil or, heaven forbid, non-virgin olive oil? Would that make a casserole risqué? Has anyone eaten adult spinach, or just baby spinach? Can you wear a beef medallion on your suit lapel? It sounds like jewelry to me, and so does pearl tapioca. That must be a real gem! Is it possible to buy straight endive instead of curly? I might have to email Martha for answers.
Ooh, now to my favorite — desserts. Chocolate on almost anything can transform the most mundane food into a sweet treat. The grocery store shelves are laden with chips, mini-chips, morsels, chunks, kisses, squares, bars, cocoa and syrup that may come in the chocolate flavors of milk, dark, mocha (my personal favorite), semi-sweet and unsweetened. I mustn't forget fudge. What would ice cream be without it? I get so excited about chocolate. This is a bit naughty, especially as a mom who has been in the kitchen for many meals. But as a true chocoholic, I have this divine fantasy where I plunk myself in a gigantic chocolate fountain. There — I too can be a sweet treat!
The kitchen clock ticks away. Kids arrive home from lacrosse practice and after-school study club. Tenaciously with purpose, I replace the cookbooks on the shelf. I could fry, roast, grill or steam the gathered ingredients scattered on the counter. No smorgasbord tonight. I've decided and I have a recipe. It'll be mac and cheese.
Steamboat Springs resident Nanette Waneka is a former Steamboat Springs Middle School Spanish teacher and Colorado Mountain College adjunct professor. She's the mother of two and a past blue-ribbon winner at the Routt County Fair for her muffins and raspberry jam.