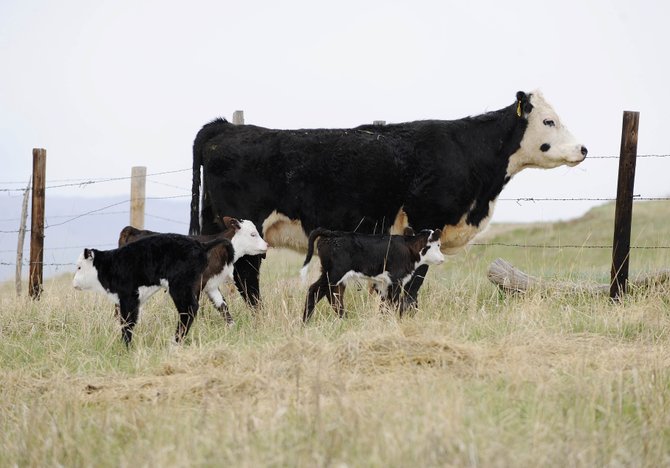 Heifer gives birth to triplets in North Routt
Weather makes spring cattle calving season easy on ranchers
Calving season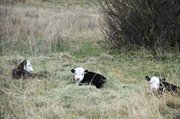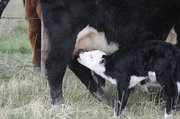 Steamboat Springs — Warm and dry weather has resulted in an uneventful cattle calving season in Routt County with the exception of one, or rather three, surprises.
"First, we saw two, and we came back five minutes later, and there were three of them," North Routt County fifth-generation rancher Matt Belton said Wednesday. "Holy cow. It was cool."
Their 9-year-old Angus Hereford cross cow had given birth to two heifers and lastly a bull, which was a little smaller and weaker than his sisters.
"She had them all on her own," Belton said. "No trouble at all."
What was even more unusual about the April 22 birth is that all of the calves got up and started feeding.
"She took all three right away," Belton said.
Sometimes, the mother will just walk away, not knowing that she has left a baby behind.
"They can't count, I guess," Belton said. "She's a good mother."
The odds of triplet calves being born has been reported as one in 100,000.
"I've heard of it, but it's very infrequent," said Lee Meyring, a veterinarian at Steamboat Veterinary Hospital.
Meyring, who cares for the Beltons' animals, said that he never has heard of triplets being born in Routt County and that twins alone can be difficult for a heifer to deliver.
Nursing for three calves also is hard for the mother.
"Luckily, she's got good milk," Belton said.
To help the mother and babies, Belton is supplementing their diet by feeding the calves once per day with a bottle. They are being kept in their own pen at the ranch the Beltons lease along Routt County Road 129.
In the fall, the calves will go to a feedlot and likely will not grow to their normal sizes, Belton said.
"They won't be worth as much in the fall, but we're not complaining," he said.
As of Wednesday, the Belton ranch has had 140 calves born, and they are expecting 200 total. Only one calf has died. With the triplets and another set of twins, their success rate is more than 100 percent, and it has been a good calving season for sure, Belton said.
"With this nice weather, it's a quarter of the work, it seems like," he said. "If it's snowing and blowing, you have to check the cows more. A new calf sometimes can't get up and nurse, and you have to get them in the barn and warmed up and get the cow in and get it nursing."
Larry and Mary Kay Monger are enjoying the weather, as well, at their centennial ranch on C.R. 44.
They are used to bringing newborns into their kitchen each year to get warm and working through deep mud that is as thick as wet cement.
They have not had to do that this year.
"If there is a silver lining to the weather, this would be it," Mary Kay Monger said.
She said that they are close to having all of their 150 calves born and that they had only two die. It is a stark difference compared with last year, when winter weather carried well into spring.
"Last year, we lost about 14 or 15 because it was so bad," Monger said. "It was the worst that I can recall because it kept on going and going, and it just never let up."
Colorado State University Extension Agent Todd Hagenbuch said that last year you could look at a rancher's face and tell it was a tough calving season.
The dry weather is nice for now, but Hagenbuch said ranchers are hoping for moisture.
"People are very concerned about whether they are going to have grass to feed their calves," he said.
To reach Matt Stensland, call 970-871-4247 or email mstensland@SteamboatToday.com