Steamboat briefs: Routt County school lunch menus for week of May 7
■ Steamboat Springs elementary and middle schools
Monday: Chianti-style pasta, spring pea salad with dates and walnuts
Tuesday: Mediterranean chicken and roasted vegetables, Tunisian carrot salad with harissa and feta cheese
Wednesday: penne pasta with artichokes
Thursday: pork carnitas, steamed yucca
Friday: homemade pizza
■ Steamboat Springs High School
All meals are chef's choice
■ South Routt School District
Monday: Frito pie, peas
Tuesday: chicken patty sandwich, tater tots
Wednesday: Bosco Stick, fruity Jell-o
Thursday: chicken burrito, Spanish rice
Friday: macaroni and cheese, green beans
All meals served with salad and fruit bar and milk
■ Hayden School District
Monday: biscuits and gravy, sausage links, hash browns, mixed fruit, milk
Tuesday: Szechuan chicken, fried rice, mandarin oranges, fortune cookies, milk
Wednesday: hot pork pasta, corn on the cob, fresh pears, wheat rolls, milk
Thursday: beefy macaroni and cheese, peas and carrots, sliced peaches, bread sticks, milk
Friday: no school
■ Heritage Christian School
Monday: Azteca: chicken burrito, pinto beans, tortilla chips, salsa, sour cream, drink
Tuesday: Freshies: soup and salad, bread, cookie, drink
Wednesday: Pisa's: baked rigatoni, garden salad, garlic bread, drink
Thursday: Beau Jo's: pizza by the slice (cheese, pepperoni, sausage), drink
Friday: half day, no lunch
Council on Aging lunch menus for week of May 7
■ Steamboat Springs Community Center 
Monday: baked chicken and country gravy
Tuesday: roast beef
Thursday: baked ham
Friday: Spring Fling Luncheon with stuffed pork chops
■ Hayden American Legion Hall
Monday: baked chicken and country gravy
Tuesday: roast beef
Thursday: Baked ham
■ South Routt Community Center
Monday: baked chicken and country gravy
Wednesday: roast beef
Friday: Spring Fling Luncheon in Steamboat
The Routt County Council on Aging hosts its annual Spring Fling Luncheon at noon May 11 in Steamboat. No lunch will be served in South Routt or Hayden that day, but vans will provide transportation to Steamboat. Seating is limited. Call 970-879-0633 to reserve a seat by Monday.
All lunches are served at noon. There is a recommended donation of $3 per lunch for those 60 and older and $6 for those younger than 60. A $30 punch card is good for 10 lunches for seniors 60 and older or five lunches for those younger than 60. Find detailed menus at www.rccoaging.org. Call 970-879-0633 to make a lunch reservation or arrange for a van pickup.
Physical therapist travels to Japan to teach a class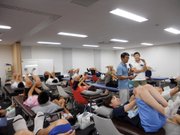 Brent Yamashita, co-director of Johnson & Johnson Physical Therapy in Steamboat Springs, has been invited to Japan to teach functional manual therapy, according to a news release. A visiting physical therapist from Japan originally saw Yamashita working in California and invited him to bring the approach to physical therapists in Japan. In 2009, the first class included more than 50 physical therapists. Johnson & Johnson has grown into a nationally recognized fellowship training site.
Dig This founder receives Top 25 Newsmaker award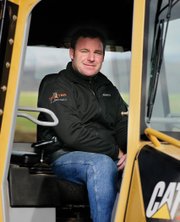 Ed Mumm, president of Dig This, received a Top 25 Newsmaker award at the 47th annual Award of Excellence luncheon April 12 in New York City, according to a news release. Mumm was recognized for bringing bulldozing to the masses at a Las Vegas heavy-equipment playground. He founded the recreational earth-moving company outside Steamboat Springs in November 2007 before opening the Las Vegas location in April 2011. Mumm plans to open another Dig This in Sydney, according to the release.
The business offers thrill seekers the opportunity to move massive mounds of earth with Caterpillar D5 track-type bulldozers or CAT 315CL hydraulic excavators in a five-acre sandbox, according to the release.
Registration deadline for summer sports extended
The registration deadline for summer adult sports recreational leagues has been extended to Tuesday or until all sports are full. For more information about softball, soccer or beach volleyball visit www.steamboatsprings.net/recreation or call 970-879-4300.
Fitness classes for older adults starting Monday
Aging Well is offering summer fitness classes for older adults at Colorado Mountain College beginning Monday. Advanced N'Balance is from 9 to 10 a.m. Mondays through July 30, and a physical conditioning class for seniors is from 10:30 to 11:30 a.m. Wednesdays through July 25. Both classes are in Bogue Hall Room 200. The cost for each class is $53. To register, call 970-870-4444.