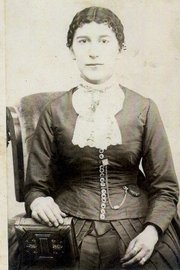 For more
"Hoosier Woman," a novel written by Steamboat Springs resident Sylvia Duncan, is available in paperback and in digital format for the Kindle. For more information about the book or to purchase a copy, visit www.amazon.com.
Craig — Sylvia Duncan never met Miriam Coulter Pence.
Pence, Duncan's great-grandmother, belonged to an era long since past, and her life was preserved only in relics and family lore.
But Duncan, a Steamboat Springs resident and now-retired Moffat County High School English teacher, felt drawn to the spirited woman.
Duncan remembers seeing a hairpiece Pence wore on her wedding day. Her fascination began to grow. She recalled that experience in the foreword to "Hoosier Woman," a book she self-published in March that evokes Pence's life.
"I can honestly say I love her — this woman who was a stranger to me when I, in wonder, carefully lifted that hairpiece from the box and heard her voice speak clearly to me, 'Sylvia, tell my story because it is yours, as well,'" she wrote.
Duncan, 61, wrote to honor and preserve the stories handed down to her about her ancestors, and Pence in particular, who was born to a pioneer family in mid-1800s Indiana.
"It was a real labor of love to do this," Duncan said.
She was intrigued by stories her family told about her great-grandmother, who lived from 1865 to 1917 and was known as "a strong, independent woman," she said.
Although Pence wasn't a trained physician, she traveled the area on horseback, dispensing herbal treatments to the ill, Duncan said.
"That was unusual for … a farm woman to get on her horse in the middle of the night and ride away," she said.
The push to put pen to paper came in November 2011 when she heard about National Novel Writing Month, an annual initiative that encourages would-be authors to write a complete novel in a month.
Duncan lived up to the challenge. She wrote 60,000 words in 30 days, often working 10 or more hours per day, she said.
"It just flowed out because I was so ready to write it," she said.
She and her husband, Thomas Duncan, wrote several nonfiction books together, but "Hoosier Woman" was her first attempt at writing a novel, she said.
"This was all her own project, and she just worked like a little dervish every day for a month to get it done," said Thomas Duncan, a Moffat County High School art teacher. "She was determined to do this, and she just did it."
She was motivated by a desire to preserve her family's history for a young generation, and her six grandnieces in particular, she said.
Duncan never met her great-grandmother, but writing her story gave her a window into her life.
"Miriam is real to me now," she wrote in the foreword to the novel. "I cannot fit into her size-four shoes, but I can weep at the gravesides as her little brother, father and mother are laid to rest.
"I can be in the congregation and rejoice when she is united in marriage to a good man, and I can stand in awe at the bedside as her second granddaughter, my own mother, is born."
Duncan has something new to add to the collection of family heirlooms: a novel, which is her tribute and her "labor of love."