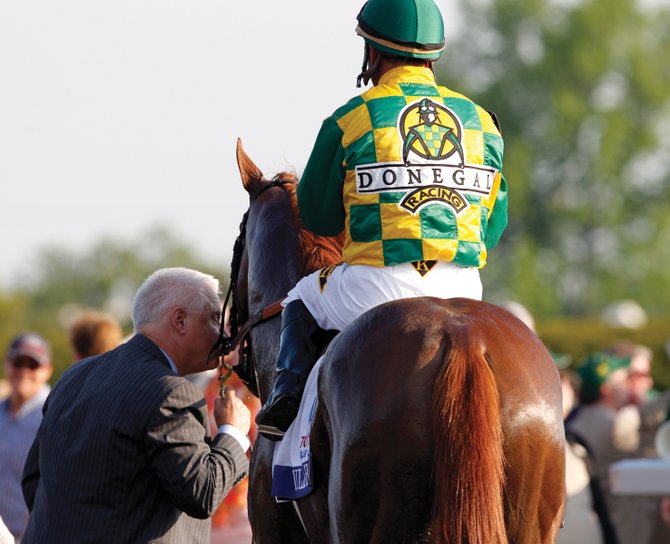 Part-time Steamboat resident owns 1 of Derby favorites
Steamboat Springs — What hall of fame jockey Kent Desormeaux had to say was music to Jerry Crawford's ears.
The jockey had stepped off 2-year-old Dullahan last year in Saratoga, N.Y., turned to Crawford and confirmed they might have something special.
"He just had this huge grin on his face," said Crawford, the president of Donegal Racing and owner of Dullahan. "He got off and said, 'Jerry, you have a new toy.' We knew he was going to be special."
Crawford hopes Dullahan will be special enough to run for roses at the 138th Kentucky Derby on Saturday.
Crawford, an Iowa lawyer, lives part time in Steamboat Springs. He started coming to Steamboat to ski with his son for what was supposed to be a getaway for the boys but quickly became a family affair.
He now owns multiple properties in Steamboat and spends about three to four months per year in town.
Crawford got involved with horses in his 20s. He grew up riding at adjoining farms in Iowa and raising rodeo horses and quarter horses.
He has had previous horse racing success. In 2010, his horse Paddy O'Prado finished third in the Kentucky Derby.
"We thought that was as good as life gets," he said.
But Crawford thinks he has a better chance with Dullahan.
Crawford purchased the horse for $250,000 in 2010. Dullahan was known but not fully considered a favorite for the Derby until April. At the Blue Grass Stakes, he came from 10th in the final three furlongs to get the win.
It's Dullahan's style to stay back and save ground before charging from behind in brilliant fashion.
On Wednesday, Dullahan drew the fifth post with 8-1 odds. He's the fourth betting choice.
Morning line favorite Bodemeister is going off at 4-1 odds in the No. 6 post, and Union Rags is 9-2 in the 4 hole.
Crawford said he thinks he has the horse to win the 1 1/4 mile race and said everything seems to be falling into place. When the race begins at 4:24 p.m. Saturday, he said, he will be very serene and calm.
So should you bet on Dullahan to win?
"Yes," Crawford said. "I say whenever you make a wager, make sure it's a wager you're readily able to lose. But, yes, I'll be putting my money where my mouth is."
To reach Luke Graham, call 970-871-4229 or email lgraham@SteamboatToday.com