Steamboat briefs: Routt County students graduate from CNCC with honors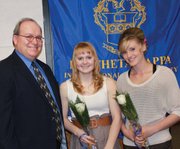 Bryanna McFadden, a 2010 Hayden High School graduate, and Caitlyn Berry, a 2010 Soroco High School graduate, will be receiving associate degrees with high honors Saturday from Colorado Northwestern Community College in Rangely, according to a news release.
McFadden and Berry were among 12 CNCC students who were inducted into Phi Theta Kappa Honor Society, which requires a GPA of 3.5 or higher, according to the release.
In a separate ceremony, McFadden and Berry also were recognized as outstanding scholars April 12 by their program major. Scholars were chosen by faculty in their areas of study for scholarship and scholastic ability, outstanding qualities in leadership, community or college service, collegiate or professional organizational participation and working well with others, according to the release.
Vice President of Instruction and Student Affairs Dr. David Smith recognized Berry for achieving a 4.0 GPA, and Arts and Sciences program director Todd Ward presented her the outstanding scholar by program award. Natural Resource Studies program director Anne Cummings presented McFadden the outstanding scholar by program award.
In addition to being outstanding leaders and scholars, McFadden and Berry also are accomplished athletes. They each received volleyball scholarships and played on the CNCC Lady Spartans volleyball team.
In fall 2012, McFadden and Berry will be continuing their studies by entering a four-year university.
Clinic for beginner adult, teen golfers starts May 10
A clinic for beginner adult and teen golfers is from 4:30 to 5:45 p.m. beginning May 10 at Steamboat Golf Club. The cost is $150 and includes range balls and equipment. Call 970-879-4295 to sign up.
Speakers needed for annual Sisters in Steamboat event
The fourth annual Sisters in Steamboat weekend from Oct. 12 to 14 is in need of speakers. This year's theme is"Girls Just Wanna Have Fun!" Event organizers are looking for dynamic and interesting speakers to host interactive talks, workshops and activities to ensure local and visiting sisters have a wonderful time. Contact Tracy Barnett at 970-846-1800 or tracy@mainstreetsteamboat.com. The deadline is June 1.
Deadline for summer adult recreational sports is Thursday
The registration deadline for summer adult recreational sports — including softball, soccer and beach volleyball — is Thursday. For more information or to register, visit www.steamboatsprings.net/recreation or call 970-879-4300.
N-CTRL conducts survey about youth tobacco use
The N-CTRL coalition lead by Northwest Colorado Visiting Nurse Association and Grand Futures Prevention Coalition is conducting a public opinion survey to gather information about youth tobacco use in Craig, Hayden and Oak Creek. Access the survey at www.surveymonkey.com/s/5S3H3N9. The survey is open to youths and adults in Hayden, Oak Creek and Craig. For more information about N-CTRL or to get involved in youth tobacco prevention, contact Northwest Colorado VNA Community Health Educator Vicki Barron at 970-875-1883 or vbarron@nwcovna.org.
Middle school's tree sale will run through Friday
Steamboat Springs Middle School hosts its annual Everything Outdoor Steamboat tree sale through Friday. Pickup day is from 8 a.m. to 3 p.m. May 11 at the school. Orders can be placed through trees@sssd.k12.co.us, 970-871-3568 or the school.
Nominations for health care awards due Friday
Nominations are being accepted for the fourth annual Doc Willett Health Care Heritage Awards, which will be held Aug. 24 at Strings Music Pavilion. The awards highlight the current quality and scope of health care while paying tribute to the roots of hospital care in Routt County, according to a news release.
Nominations for the Health Care Community Advocate and Health Care Professional awards are due by 5 p.m. Friday. The criteria for the Health Care Community Advocate award are a resident of the Yampa Valley whose efforts have resulted in improving the health, available services or health care environment to benefit the community. The criteria for the Health Care Professional award are a health care professional who has spent a significant portion of his or her career in delivering direct patient care or services to individuals.