Jean White: Supporting telecommunication reform
Wednesday, March 28, 2012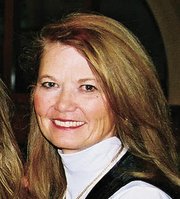 During the past few weeks, I have received a great deal of input on Senate Bill 157, which would reform our decades-old telecommunications laws. Many have asked why I am supporting this bill. My reasons are as follows.
Broadly speaking, this bill will deploy broadband Internet access into parts of the state that currently don't have access; reduce and eventually eliminate the 2.9 percent surcharge that all Coloradans pay on their landline and cellphone bills; and reduce regulatory burdens that limit investment in rural Colorado.
Perhaps the most exciting part of the bill is the creation of the Broadband Capital Investment Fund, a grant program to fund broadband infrastructure in areas of the state that don't have access. Because the initial capital investment costs typically are the biggest hurdle to serving an area, I am hopeful that this bill will help provide broadband access in the areas of Northwest Colorado that need it most.
The most contentious part of the bill is a revision of Colorado's phone subsidy system and the 2.9 percent surcharge on all landlines and cellphones that supports it. Originally, the surcharge was meant to subsidize basic phone service in areas of the state where service would be unaffordable without subsidies. But today, consumers are subsidizing more than half a million phone lines — some in places like Fort Collins and Parker — at a cost of $54 million each year. We now have the third-largest subsidy system in the U.S., behind only California and Texas. Although the program was set up with good intentions, it hasn't kept pace with population growth and technological development in Colorado.
Because Colorado's laws were written so long ago, landline service is subject to monopoly-era regulation and is subsidized while cell service is completely unregulated and unsubsidized. This bill updates regulations so that landline companies will compete under the same rules as other companies in competitive areas of the state — that is, areas that have at least five companies offering voice service at a reasonable price. If four companies can manage to offer phone service at a price comparable to subsidized rates, it's a good indication that an area no longer is prohibitively high cost.
The Public Utility Commission's initial estimate shows that subsidies will be cut along the Front Range and in the developed areas surrounding Grand Junction. Because most of Northwest Colorado still has fewer than five affordable options for voice service, consumers in this part of the state will keep their existing subsidies and regulatory protections. This reform will benefit consumers across the state by cutting subsidies to areas that no longer need them, resulting in a lower surcharge on everyone's phone bill.
The bill also sets a sunset date for the entire subsidy system in 2025 to allow companies that receive government subsidies to prepare for a future without them. I am hopeful that technological advances will have connected all areas of Colorado by that time, eliminating the need for government subsidies. However, just in case there still are pockets of Colorado that will need subsidies in 2025, the bill directs the Legislature and the Public Utilities Commission to review the subsidy program before it sunsets to make sure that everyone will have access to reasonably priced phone service.
The smallest rural telephone companies, which serve between a few hundred and a few thousand customers apiece, will receive stable funding until the sunset date to give them the best shot at staying competitive in an industry dominated by a handful of huge corporations, which are becoming larger and less numerous through mergers and acquisitions. In addition to giving the smallest rural telephone companies a steady funding stream until 2025, this bill will give them a break from heavy-handed regulatory oversight so they can spend more money on service and less on regulatory lawyers.
Similarly, the bill pares back regulatory burdens that have been hampering investment in rural Colorado. For example, the bill will allow phone and Internet companies that operate in urban areas of the state to expand their services to rural areas without having to first gain approval through onerous regulatory procedures.
Phasing out taxpayer-funded subsidies is a difficult but worthwhile project that will benefit consumers. Limiting subsidies to the areas of the state that really need them will free up funding for broadband investment in rural Colorado and will reduce the surcharge on every landline and cell phone bill. Similarly, paring back regulations across the state will give companies more freedom to compete and invest in Colorado — particularly in rural areas. Although SB 157 isn't perfect, it's a step in the right direction for rural Colorado.
Jean White is the state senator representing District 8, which includes Routt County.