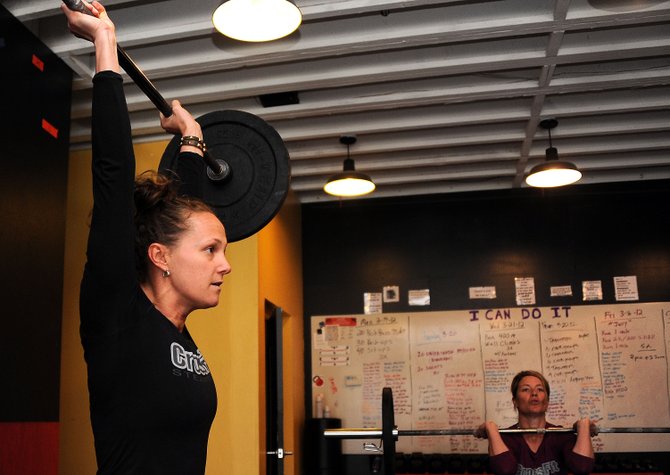 Steamboat CrossFit athletes eye fitness games
Steamboat Springs — They already know they're not going to make it, and perhaps that's one of the things that makes a morning at Fusion Fit, home of CrossFit Steamboat, stand out.
A group of about a dozen Steamboat Springs athletes is participating in the CrossFit Open, the first element of the CrossFit Games, a series of competitive workouts bent on determining who is the "Fittest on Earth."
The top athletes from the top affiliates across the country advance to regional competitions, then the top teams from that event advance to the CrossFit Games, an event established in 2007 that began getting play on ESPN this winter.
Steamboat residents don't have a chance, at least not this year.
"We will not be going," said Ronni Collins, one of the athletes who has vigorously attacked the challenge. "Not this year."
The top regional affiliates and athletes are selected based on a team's performance in a weekly workout. It's typically "how many of X were done in X amount of time."
One week, it was how many burpees — a full-body exercise that combines a push up with a jumping jack — can be squeezed into seven minutes.
"I did it twice," Collins said. "Who wants to do seven minutes of burpees twice? But I knew I could get just one more."
She got five more, in fact, jumping from 89 to 94.
On Friday, Steamboat's competitors were working through a new workout. They started with three thrusters — a weight-lifting move that goes from a squat to an overhead press — and demanded men use 100 pounds and women 65. They followed that with three chest-to-bar pullups. Then they did six of each, then nine of each and so on, increasing by three with each circuit and seeing how many they could get to in a seven-minute span.
Collins is joined in the effort, led by Sarah Coleman and Mike McCannon, by Craig Malchow, Rachelle Steele-Cerone, Tyler Klansnic, Karen Walters, Erin Dargis, Andy Stewart, Ryan Johnson, Tyson Waneka, Dave Anderson and Brian McGovern.
So far, they've climbed to 103rd in the southwest region, miles from the top-30 placing they'd need to qualify for the regional event, which will take place in Castle Rock.
"Not this year," Collins said, "but watch out."
McCannon, who owns the Steamboat operation, said the weekly challenges have proven great motivation.
"My goal, as the gym owner, is to have people continually improving," he said. "Hopefully, we can move up. If we can move up to 80th next year, that'd be awesome. If some how we could get to the games in a year or two, that'd be phenomenal."
In the meantime, they plan to keep trying to improve, to count a little higher, one seven-minute stretch at a time.
"It's really cool because it brings out your inner athlete," Coleman said. "It really allows you to excel at things you never thought you could."
To reach Joel Reichenberger, call 970-871-4253 or email jreichenberger@SteamboatToday.com