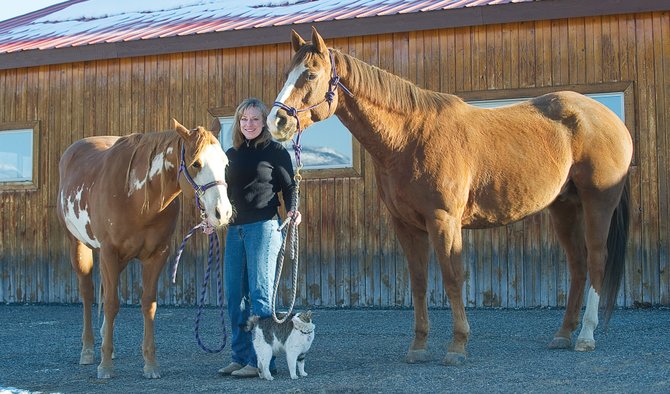 Steamboat Living: Horses Helping Humans
While W.C. Fields maintained that "horse sense is what a horse has which keeps it from betting on people," local wrangler Christina Haxton is betting on horse sense helping people.
Haxton is the founder of Sustainable Leaders and the Experience HorseSense program, which imparts people skills through horses. Utilizing "lessons from the herd," Haxton uses equine power to teach people about building relationships — corporate or otherwise — filled with trust and respect.
"Hands-on experiences with horses teach humans to bring humor and fun into their relationships," says Haxton, who operates her HorseSense classes at indoor arenas throughout Steamboat Springs and beyond. "Horses are intuitive, honest and engaging animals, and people can learn a lot from them."
For corporate retreats, she says she often has the horses represent a customer and has her clients try to "catch" them. "The whole process of catching a customer is very reflective," she says. "It's all about the relationship. You can't be too aggressive, or they'll leave you. Real-life situations get mirrored in the arena."
So far, it's working. Companies use her services for corporate retreats, conflict resolution and team building, with her client list including Vectra Bank, Lockheed Martin, the Denver Broncos, Coors and the Colorado Judicial Department.
"It was a very memorable program," says Jill Peale, vice president of client VCA Animal Hospitals. "We're still using some of what we learned today. I'd recommend it to any company looking for team-building activities and leadership training."
Haxton, who balances her HorseSense program with more conventional speaking, consulting and executive coaching duties, says equine education was a natural progression. A former senior manager and staff trainer in the health and human services industry, she became a licensed marriage and family therapist in 1996 before starting her own consulting and training company in 1997. Then she brought her passions together by bringing horses into the fray.
"I've learned more from horses about trust, respect and listening than I have from all of my other experience and education put together," she says, adding that proceeds help fund therapeutic riding and animal rescue programs in the Yampa Valley. "They're a great metaphor for challenges people face in day-to-day life."