Document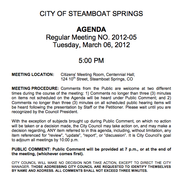 Agenda highlights
5 p.m. Proclamation recognizing 2012 as "The Year of Water"; Vision 2030 report; second reading of ordinances to implement a one-time $25 sales tax application and a one-time special activity permit.
7 p.m. Public comment; oil and gas update from City Attorney Tony Lettunich; request for sponsorship for a public oil and gas informational meeting; and a discussion of the unnecessary alarm ordinance.
Steamboat Springs — The Steamboat Springs City Council has to decide how to spend nearly $350,000 in Colorado Lottery Conservation Trust Fund dollars.
Those funds could be spent to make up a funding shortfall to make Howelsen Hill's existing K38 jump usable in the summer, a $1.6 million project. Or they could be used to provide matching funds for as much as $1.5 million in grant funding that would pay to build an access road to the Bear River Skate Park and other river projects.
The projects eligible for Conservation Trust Fund dollars will be part of a larger presentation from Finance Director Kim Weber about the city's Capital Improvements Program, which looks several years into the future. Prioritizing those was among the City Council's 2012 goals.
Weber said there are several projects for which the Conservation Trust Fund dollars could be used in 2012. They include: Casey's Pond and Fish Creek trails; clay courts resurfacing at the Tennis Center at Steamboat Springs; lighting, communication and timing equipment at Howelsen Hill; and for the city-owned ski hill's Centennial Campaign projects.
The funding was slated for the Howelsen-related projects before being removed by the City Council at budget hearings last October. At the time, council members said they wanted to know what else the funding could be used for.
"The purpose of doing a full presentation of all the projects is just to give council the whole picture and not just one little part of it for them to make a decision," Weber said.
With the exception of the ski jump and clay courts resurfacing, all other projects Weber listed have grant and matching funds budgeted for this year. That includes the Bear River access road.
Winnie DelliQuadri, Steamboat's government programs manager, said there's some urgency to the City Council considering the Conservation Trust Fund dollars for the Howelsen Hill ski jump. She said a $100,000 challenge grant from the Gates Family Foundation is set to expire this month. And she said a $700,000 Great Outdoors Colorado grant requires the project be completed by December 2013.
General Services Director Anne Small said if approved, the project would start when the snow melts. But she said construction is complicated by the site's steepness and materials coming from overseas.
DelliQuadri said securing a grant for the Bear River access would be tough. She said it's one of 17 projects invited to submit an application for full funding and there is a 3-to-1 request to available funds ratio.
"We got selected for the full application," she said. "It's not an indication for funding. It's an indication that your project is a fit. ... We're making the case that the project isn't just good for us, but that it's good for the entire state."
Because it's so competitive, DelliQuadri will ask City Council members whether they want her to seek full or partial funding during a presentation of a resolution seeking their support for the Yampa River System Legacy Project, which includes access and river recreation improvements to other areas. She said applying for partial funding could boost the city's chances of receiving the funding.
The City Council has been divided during past discussions about the Bear River access road.
Without the grant funding for Bear River and Conservation Trust Fund dollars for the ski jump, Weber said there's no existing options to pay for those projects.
"Unless we want to go into reserves, there is no other money that's been appropriated," she said.
To reach Jack Weinstein, call 970-871-4203 or email jweinstein@SteamboatToday.com