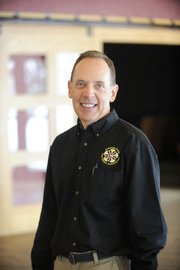 Stewart raising money for Parkinson's disease
Steamboat Springs Fire Rescue Chief Mel Stewart had planned to ride next month's eight-day, 485-mile Cape Epic mountain bike race that weaves through towns in South Africa, but he wanted it to mean something.
After his father, Moody Stewart, passed away in October 2010 after suffering from Parkinson's disease for 10 years, Stewart saw an opportunity.
"This is such a big event," he said. "I'd like to do it for a reason. My father passed away last year. I thought I'd do it in memory of him."
The race starts March 25. After a 15-mile prologue, the 1,200 riders in teams of two will climb 5,200 feet during seven 50- to 90-mile stages through towns in South Africa. Stewart is riding with longtime friend and former Steamboat resident Craig Russell, who now lives in Denver.
He leaves March 14 to continue his training and get acclimated to the heat. Stewart's wife, Jen le Roux, a native of Cape Town, South Africa, and their two daughters will join him shortly after.
Stewart is raising money for the Parkinson's Disease Foundation in connection with the race. He said proceeds will benefit Parkinson's research and education for people with the disease or those who care for them. He's about $1,800 to his $5,000 fundraising goal. Stewart said in addition to cash donations he has received, Wells Fargo has donated mountain bike jerseys and shorts and money to help cover expenses, and Steamboat Ski & Bike Kare has donated Hammer Nutrition products. To make a donation, visit http://support.pd...
Steamboat Springs — Acting Deputy Fire Chief Mel Stewart can remove the interim tag from his title.
Steamboat Springs City Manager Jon Roberts said Thursday that Stewart was chosen from a field of internal candidates to be chief of Steamboat Springs Fire Rescue. He will lead the operations of a department that provides services for the city and the surrounding rural Steamboat Springs Area Fire Protection District.
Roberts said Stewart has the respect of the Steamboat's firefighters and management team.
"I feel optimistic about his ability to manage the fire department and to provide the optimal amount of service to our citizens and the fire district as well," Roberts said Thursday.
Stewart, 51, replaces Ron Lindroth, who resigned Jan. 18 to take a fire chief position with the Central Valley Fire District in Belgrade, Mont.
"I'm excited to take the leadership of the department," Stewart said. "I wouldn't have done it if I didn't have the support of the staff there. We're happy and excited to move forward."
Stewart will report to Acting Public Safety Director Joel Rae, who will continue serving in the role overseeing the city's police and fire departments. Rae said he's learned a lot about Stewart's reputation in the past few weeks.
"Mel is really well known throughout the state of Colorado for his expertise and being on top of the emergency services section of a fire department," Rae said. "... It's a true asset to have Mel in that position."
Stewart's fire career began as a volunteer with Summit County Ambulance Service in 1987. He became a full-time paramedic in 1990 and later was promoted to ambulance director.
He came to Steamboat in 1997 as ambulance director for the fire district. Stewart became EMS battalion chief when the district and city's fire department merged in 2002.
When Stewart was promoted to acting deputy fire chief, his salary increased from $78,374 to $83,076, city general services director Anne Small said. She said Stewart's salary won't change with his promotion to fire chief.
Roberts said the public safety hierarchy would be re-evaluated after Stewart has some time to manage the department. Discussions about governance issues between the city and the Steamboat Springs Area Fire Protection District are ongoing.
The entities had been discussing whether to consolidate last year when talks broke down and the city decided to hire a consultant to evaluate Steamboat's fire and emergency services. A task force of two fire district board members and two City Council members started meeting last Friday to discuss management of those services.