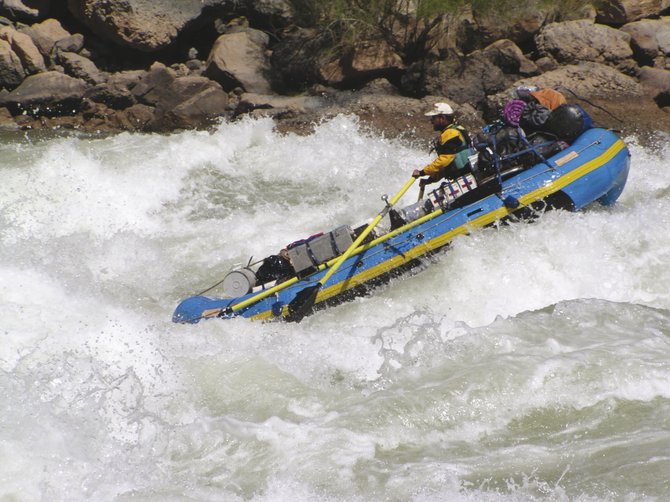 Steamboat Living: Quick Hits — Local retraces 1869 rafting route of John Wesley Powell
If you can do it once, why not do it again?
That's the theory John "Captain Volume" Lathrum is adopting as he takes the summer to retrace one-armed John Wesley Powell's 1869 descent of the Green and Colorado rivers from Green River, Wyo., through the Grand Canyon.
Lathrum, the local owner of Heavy Metal Welding, originally made the trip in 2008. He's at it again this year in his 16-foot raft with a custom-welded frame, heading from just outside Steamboat all the way to Lake Mead.

More than the rowing, he says the hardest part is procuring the proper permits from the river system's various regulatory agencies. The first piece of the puzzle was securing one for the Grand Canyon. He crossed that bridge when friend Fred Kohler pulled a put-in date for Sept. 14. Working upstream from there, he secured permits for Cataract Canyon on the Colorado River above Lake Powell as well as Stillwater/Labyrinth, Desolation/Gray and Gates of Lodore canyons on the Green River, where he'll put in Aug. 13. He plans to reach Hite Marina on Lake Powell on Sept. 11 and then drive two days to the Lee's Ferry put-in for the Grand.
"The key part was getting the permit for the Grand Canyon," the longtime rafter says. "Once you get that, you can try to get everything else to fall into place. In 2008, we motored across Lake Powell, but I'm not doing that again."
Lathrum knows he'll have lower flows than he did four years ago, complete with pesky sandbars to dodge in the flatter stretches, but at least he'll have company. Twenty people are joining him for the Gates of Lodore section, with five people, including local Alex Maher, joining him the entire way.
"I'm looking forward to it," Lathrum says. "Ever since my parents took me to Lake Powell in 1977 when I was 14, I've been fascinated by him and the desert canyons he explored. And Steamboat is about as close a launching point as you could have to start such an expedition."