How to help
To place your available equipment, including livestock hauling trailers, in the Routt County Extension Service database, visit http://rcextension.colostate.edu and click on "Drought Workshop" at the top of the page. When the PDF opens, scroll to the bottom and click on the Survey Monkey link (www.surveymonkey.com/s/D9FZY3D).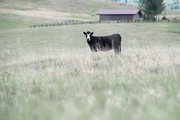 Related stories
Steamboat Springs — The first thought when a wildfire breaks out is moving people out of harm's way, and the second is protection of property. But unless they grew up on a farm, people may not realize how much of that property is four-legged.
Routt County officials and members of the agricultural community are making preparations to evacuate livestock — from cattle to llamas — in case a fire breaks out in the parched hills overlooking the Yampa Valley.
Routt County Emergency Management Director Bob Struble told a group of more than 100 farmers and ranchers this week that they need to prepare as groups of neighbors to take care of one another in case a sudden need arises to move cattle, horses, sheep and pigs to a safe haven.
"Neighbors helping neighbors," Struble said. "We have a limited number of first responders. If something happens, it might be 20 to 30 minutes before we can get there and jump on the fire. If you see smoke or feel it's time to leave, don't wait for a deputy or a Code Red (reverse 911) call. If you think you need to get out of there, get out of there."
Routt County animal control officer Cindy DelValle said arrangements are being made to accommodate evacuated animals at the Routt County Fairgrounds in Hayden and at the Brent Romick Rodeo Arena in downtown Steamboat.
"It would be limited space, so we encourage all of you to work with neighbors and get a plan together for your larger animals and have something ready to go," DelValle said.
City of Steamboat Springs Parks, Open Space and Recreational Services Director Chris Wilson confirmed Thursday that plans are being made for the rodeo complex at Howelsen Hill to accommodate animals evacuated because of wildfire.
"Having pens, having water and access in and out would be crucial to hosting displaced and evacuated livestock," Wilson said Thursday. "We would want to work as a community to help through that process."
Wilson said the rodeo facilities go beyond the arena itself to include holding pens, the warm-up arena and the ability to work with the city's contractors, including the Steamboat Springs Pro Rodeo Series and Sombrero Stables.
Discussions with Routt County Extension Agent Todd Hagenbuch included the possibility that a fire in the immediate vicinity of Howelsen Hill might make the rodeo arena an impractical choice for housing evacuated animals because of access that is limited to a degree by the Fifth Street Bridge, Wilson added.
Struble urged ranchers and farmers to visit www.co.routt.co.us and click on the Code Red logo to register cellphone numbers and email addresses with the reverse 911 system so they can receive the earliest possible warning of a wildfire.
Commissioner Doug Monger urged his fellow ranchers and farmers to take it a step further and call Routt County Communications at 970-870-5531 to enter the location where their cattle are grazing into a database. In case of a wildfire, Monger said, dispatchers then could notify the livestock growers of the threat.
"If there's a fire, you'll be called and you'll have a chance to get them out of there," Monger said.
Monger, who ranches on Morgan Bottom east of Hayden, said his cows are grazing 50 minutes away on the southern reaches of Emerald Mountain in the Whitewood subdivision.
Hagenbuch said his office is assembling a database on its website to facilitate neighbors helping neighbors in rural Routt County. People are asked to post equipment they have available — livestock hauling trailers in particular — to help evacuate animals as well as equipment like water tanks to assist in dealing with drought conditions.
Struble said fire chiefs in Yampa, South Routt, West Routt and North Routt have been hosting community meetings to prepare for a wildfire emergency.
Rancher Doug Carlson asked, "If there is a fire in North Routt, what resources do we have so that we can pretty quickly learn more about fire behavior?"
When news of a wildfire breaks in Routt County, Struble said, he promptly will circulate it through Routt County's Facebook page, Twitter, the Steamboat Today and SteamboatToday.com and local radio stations. Routt County's Facebook page also will link to the Steamboat Today's coverage.
"We'll try to get that out as fast as we can," Struble said.
To reach Tom Ross, call 970-871-4205 or email tross@SteamboatToday.com