Hayden Reader of the Week: Madison Nelson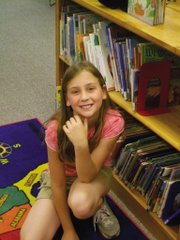 The Hayden Public Library proudly announces the second Reader of the Week in the annual summer reading program.
Hayden's Madison Nelson, 9 1/2, was chosen as the winner. Madison often visits the Hayden Public Library with her parents and brother and participates in the summer reading program, too. She will be in fourth grade next year. She has a younger brother, Brytton, who is 7. Her parents are Emily and Mike.
Madison moved to Hayden a year ago from Grand Junction. She likes to play with her brother and friends Whitney and Kimberly. She says she will become an artist when she grows up. She has one dog, Missy, and one beta
fish, Nightmare.
Her favorite color is aqua, her favorite food is salad with Italian dressing and her favorite television show is the Food Network. She enjoys cooking and playing with her brother and in school. Her favorite subject is math, and her favorite sport is softball. One of her favorite books is "Charlie and the Chocolate Factory" by Roald Dahl. Her family is going to Mount Rushmore in South Dakota for summer vacation. When asked whether she had any advice about reading for other kids, she said, "The more you read, the better you get." Madison said she was "happy and excited" when she found out she was chosen as Reader of the Week.
As the Reader of the Week, Madison gets to choose the food we make for the following week at the Bingo and Cooking program. Madison chose to make chocolate-dipped strawberries.
— Ana Lash, Hayden Public Library