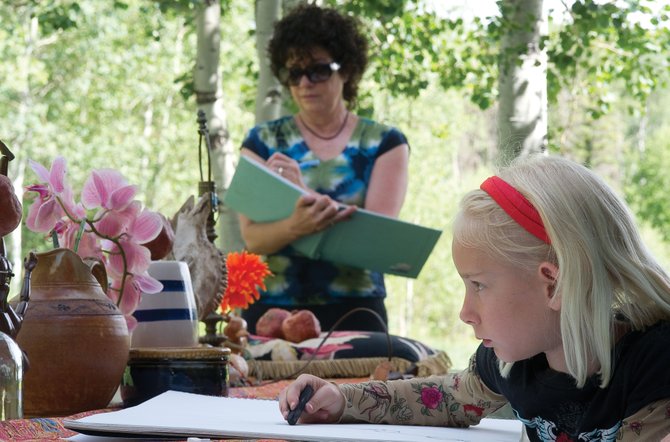 Perry-Mansfield adding visual arts to reach Steamboat community
If you go
Visual arts classes and workshops at Perry-Mansfield Performing Arts School and Camp:
■ Drawing with Susan Schiesser, Thursdays and Fridays all summer. $95 for a monthly punch card or $15 per class
■ Capturing the Moment: The Art of Visual Storytelling with photographer Raul Touzon, July 25 to 27. $875.
■ Contemporary Landscape: A 4-Day Immersive with painter Nancy Friese, Aug. 20 to 23. $800.
Steamboat Springs — In the grass next to the Steinberg Pavilion at Perry-Mansfield Performing Arts School and Camp on Friday, a long table was covered with a series of odd objects: vases, statues and animal skulls.
In calm silence, seven people scattered around the table and nearby grass stared intently at their chosen focus, translating it to their sketchpads with charcoal-stained hands.
On a warm breeze floated the chime of a nearby piano as artists Susan Schiesser and Gregory Block wandered around helping the students.
"The whole energy of the camp is this creative spirit," said Schiesser, who is leading the new summer-long class on the foundations of drawing. "The music is playing, it's peaceful and tranquil. We're trying to integrate Perry-Mansfield more into the community, and we hope to have a visual arts program in place long-term."
The drawing class will go on all summer at 9:30 a.m. Thursdays and Fridays. It costs $95 for a monthly punch card or $15 per drop-in class.
It's part of a new pilot program at Perry-Mansfield that aims to incorporate more visual arts while also attracting more members of the Steamboat community. Eventually, Perry-Mansfield board member Pat Walsh said, the program could be year round.
"The facilities are only really used for nine weeks in the summer," Walsh explained. "The thinking is we have such beautiful grounds and such a beautiful place … we want to use it the rest of the year."
She said the program is starting with visual arts but eventually could expand to include workshops in dance, music and more.
In addition to the drawing class, Perry-Mansfield will bring in Nancy Friese for a painting and drawing workshop on landscapes from Aug. 20 to 23.
From July 25 to 27, photographer Raul Touzon will offer an advanced workshop in the art of visual storytelling through photographs. The class will document one of the Perry-Mansfield productions.
Walsh said the response to the drawing classes so far has been positive.
On the ground next to the Steinberg Pavilion on Friday, 7-year-old Heidi Andre worked to capture to texture of an aspen tree in front of her. It was her first drawing class, she said.
"I usually draw stuff from when I see it a long, long time ago," she said. "I don't know what I like about it, but I kind of draw for a living."
Her mother, Mary Andre, said she took her daughter to the class from their home in Clark because she had shown an interest in art. But Andre was learning as well, drawing a series of aspen trees and capturing the depth of the lush forest behind them.
"I'm really not" an artist, she said. "I'm just having fun. It helps looking at something from a different perspective."
To reach Nicole Inglis, call 970-871-4204 or email ninglis@ExploreSteamboat.com