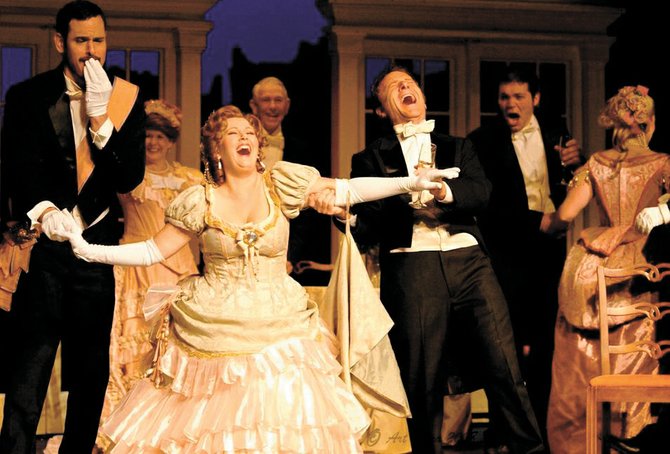 Emerald City Opera celebrates 10th anniversary
If you go
Emerald City Opera season
■ Aug. 3: Opera Artist Institute Arias Concert at the Yampa River Botanic Park (noon, free) and at Bud Werner Memorial Library (7 p.m., $10)
■ Aug. 10: Opera Artist Institute Scenes Concert at Perry-Mansfield
(7 p.m., $10)
■ Aug. 15: 10th anniversary Concert at Strings Music Pavilion (7 p.m., $40)
■ Aug. 17 and 19: Full stage production of Mozart's "The Marriage of Figaro" at Perry-Mansfield (7 p.m. Friday, 3 p.m. Sunday, $40)
*Tickets are available online at www.steamboat-cha... in the All Arts Festival section.
It's a year of anniversaries in the arts community. In addition to the Steamboat Springs Arts Council turning 40 and Strings Music Festival turning 25, the homegrown Emerald City Opera is celebrating its 10th season this summer.
Featuring performers from the New York Metropolitan Opera and up-and-coming opera artists from across the country, the 10th anniversary season will feature concerts and a full-stage production throughout August.
"Really, it's amazing," Emerald City Opera founder Keri Rusthoi said. "It's been quite a journey. Starting a nonprofit arts organization of opera in a small rural town in Colorado … it's a miracle. I think the opera's in the best shape it's ever been in. We're really lucky to have the support that we have."
In addition to its annual production, the organization puts on the Opera Artist Institute, which brings aspiring opera singers to Steamboat to work with professional singers for a three-week intensive program.

The performance season kicks off with an Arias Concert on Aug. 3 featuring the Opera Artist Institute students. They perform a free show at noon at Yampa River Botanic Park and again at 7 p.m. at Bud Werner Memorial Library for $10.
On Aug. 10, the students will perform scenes from various operas at Perry-Mansfield Performing Arts School and Camp. Tickets are $10.

Coinciding with the All Arts Festival will be a week of performances starting with the 10th anniversary Concert at Strings Music Pavilion on Aug. 15. Featuring Met singers like Keith Miller, Sandra Piques Eddy and Steven Goldstein as well as Morgan Smith and Rusthoi, the concert will feature highlights from classic operas and musicals with a live orchestra. Tickets are $40.
The season finale will be a full-stage production of Mozart's "The Marriage of Figaro," set for the Julie Harris Theater on Aug. 17 and 19.
Rusthoi said the opera is comical and weaves a complex plot.
"This is one of the best casts I've put together in the last 10 years," she said. "The more you know about the opera before you come, the more you're going to enjoy it. It's Mozart at his best."
To reach Nicole Inglis, call 970-871-4204 or email ninglis@ExploreSteamboat.com